São Miguel is the biggest island of the Azorean archipelago, out of nine. It is also the most visited one, not just because it is so beautiful and has many things to see, but mostly because there are no direct flights to the other islands, except to Terceira. The Azores are volcanic islands, divided in three sections: the occidental group, Santa Maria and São Miguel; the central group, Terceira, Pico, Faial, São Jorge and Graciosa; and the oriental group, Flores and Corvo. The last group is actually on another tectonic plate, the north american one, while the other seven islands are on the euroasian plate, which means that they actually move apart 2cm per year.
I already visited the island twice and always for long periods of two weeks, as I was dating an azorean, so I could visit all the beautiful lagoons, walk the best trails, swim in all iron water swimming pools, eat in the best restaurants. This is my suggestion of what to do and organize your trip in seven days. Then you just have to check the weather and decide in what order you should do it 🙂
Day 1: Ponta Delgada.
To move around the island you need to rent a car, so to visit the capital city you should do it or on your first or on your last day. The city isn't very big so you can walk almost everywhere. There are things you don't miss, as they are so obvious like the City Doors (Portas da Cidade), the city hall, the main churches and the marina (Portas do Mar). In Campo de São Francisco square there are many times throughout the year fairs and events, so just check it out at night. Things you shouldn't miss, which aren't so obvious are the Botanical Garden, the pineapple plantations and the graffiti artwork all around the city.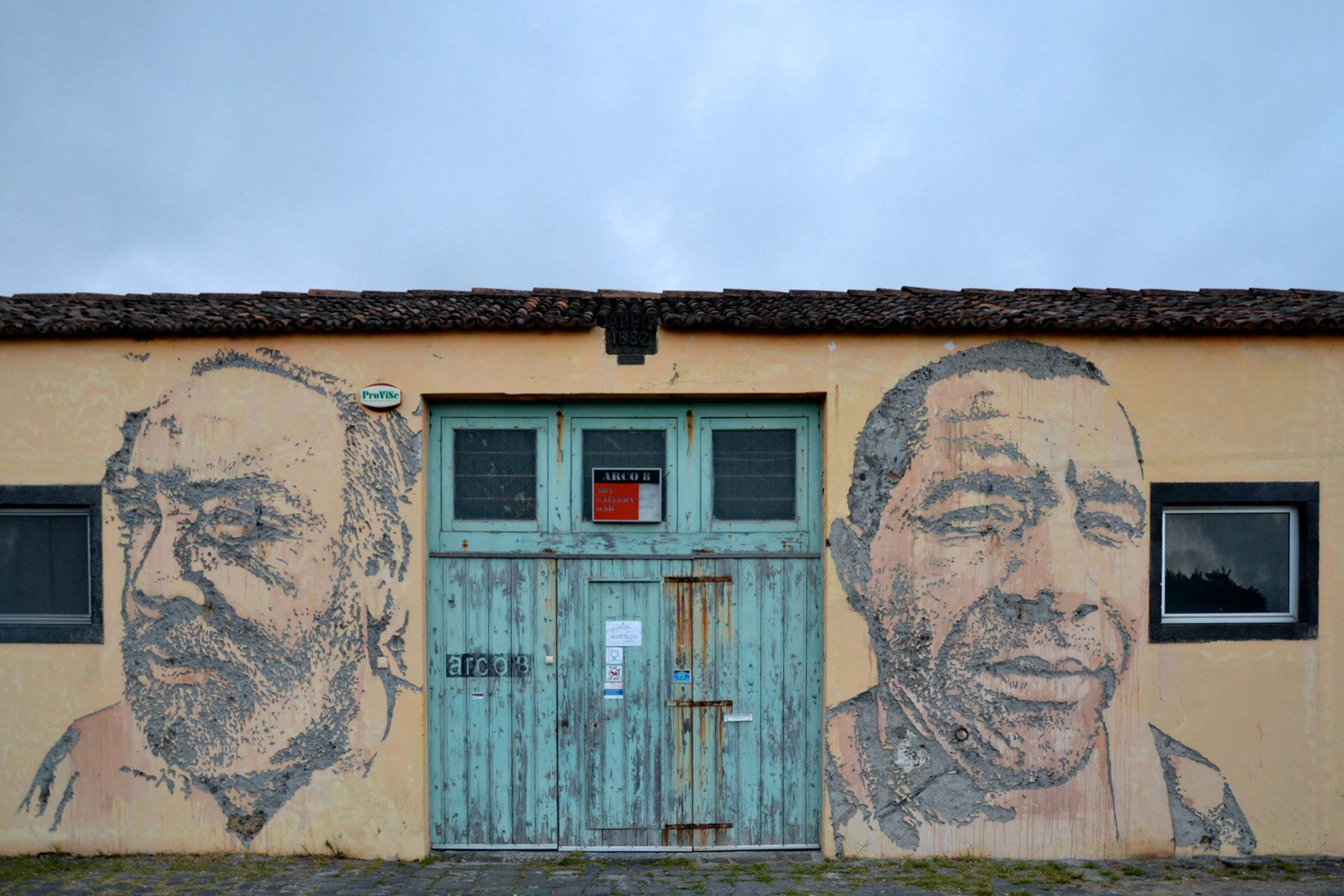 Day 2: One day on the west side of the island. Sete Cidades, Ponta da Ferraria and Mosteiros.
Start the tour on Miradouro da Boca do Inferno and then continue driving to Miradouro da Vista do Rei, where you will have the postcard view of the two lagoons, one blue and the other green. Just behind you there's the abandoned Hotel Monte Palace, which was in times a luxury hotel and had one of the most beautiful views of the world. It is forbidden to go in, as it isn't safe, but everybody does it. It is a mix of creepy and beautiful, go at your own risk. Drive down to the village and visit it while walking along the lagoons.
Fun fact: the crater of Sete Cidades is bigger in area than the island of Corvo, the smallest of the archipelago.
You can also drive to the other side of the lagoon, to Miradouro da Cumeeira, the view is really beautiful and you can take a different picture from everybody else. Continue your way until Ponta da Ferraria, a place where a warm spring goes directly to the sea and that way the water is warm. But attention not to get too close, because it is boiling! And it is free, so just enjoy (also a good thing to do if the weather isn't as warm as you imagined – though if there are many clouds you probably don't see Sete Cidades). There are changing rooms on the way, so you don't have to bother with that. Then just watch the sunset in Mosteiros, before driving back to Ponta Delgada.
Day 3: Caldeira Velha and Lagoa do Fogo, for me the most beautiful one!
Start your day at Caldeira Velha, but on your way up from Ponta Delgada stop the car and enjoy the view! From there you can see the whole west side of the island! Than continue to the semi-natural pool of warm iron waters with a waterfall behind. The weather in Azores is a bit unpredictable, but for me it is nicer when the sun isn't shining because you have that feeling that may be cold outside but you're so comfortable inside the water! Also in there there are this little wood houses where you can change clothes. When you feel completely relaxed you can move on to Lagoa do Fogo, one of those magical places on earth, so green you thought it could be "real life photoshop"! Don't see it just from above, go down the stairs until the water and go for a swim! There are a lot of different trails in Azores and this one was my favorite one to do: walk around the lagoon (to your right side is shorter) until you reach a small pier. From there there's a way, down the mountain. If you follow it you will walk side by side the old water ways to take water to the people and agriculture fields. It's 5,5km to Praia, or a bit more to Água d'Alto, but it is always walking down and not that steep, so it isn't difficult. The problem is or you have two cars or you have to take a taxi back to Lagoa do Fogo, or you have to walk up again as it is a linear trail. You can also do it the other way around, start your day with the trail and then finish it in Caldeira Velha, relaxing your tired muscles 🙂
Then have dinner in Restaurante da Associação Agrícola, near Ribeira Grande, where you will eat the best steak of your life, Bife Regional!
Day 4: Furnas, Parque Terra Nostra, Poças da Dona Beija
The fullest day! Around Furnas is where there's more to do. Furnas it is known for its stew made under the earth with geothermal energy. You take it in the morning, it stays under the earth for many hours and then you eat it with your whole family. There are also places where you see the water boiling, in there locals put bags of corn and then you can eat it, very nice! Also in Furnas are sold the best Bolos Levedos, the ones from Rosa Quental in Rua Sant'Ana 16-A! And you have to eat them warm, they are even better that way!
In Furnas you also find Parque Terra Nostra, where there is the biggest iron water hot pool. The gardens are very nice, in there you find all the species of flora there are in the island! Not far away there is also Poças da Dona Beija. You have to visit both, they are similar, as they are both warm pools but they are both very different. If you have more time you can go to each one in different days (and come back to eat more Bolos Levedos 😉 )! This second one mixes architecture and the natural springs, it is one of my favorite places in the island!
Furnas Lagoon is not that impressive as the other two big ones, Fogo and Sete Cidades, but has an amazing Interpretation Center designed by Aires Mateus and the walk until there is very nice, always around the lagoon.
To end the journey drive until Miradouro do Pico do Ferro and watch Furnas from above!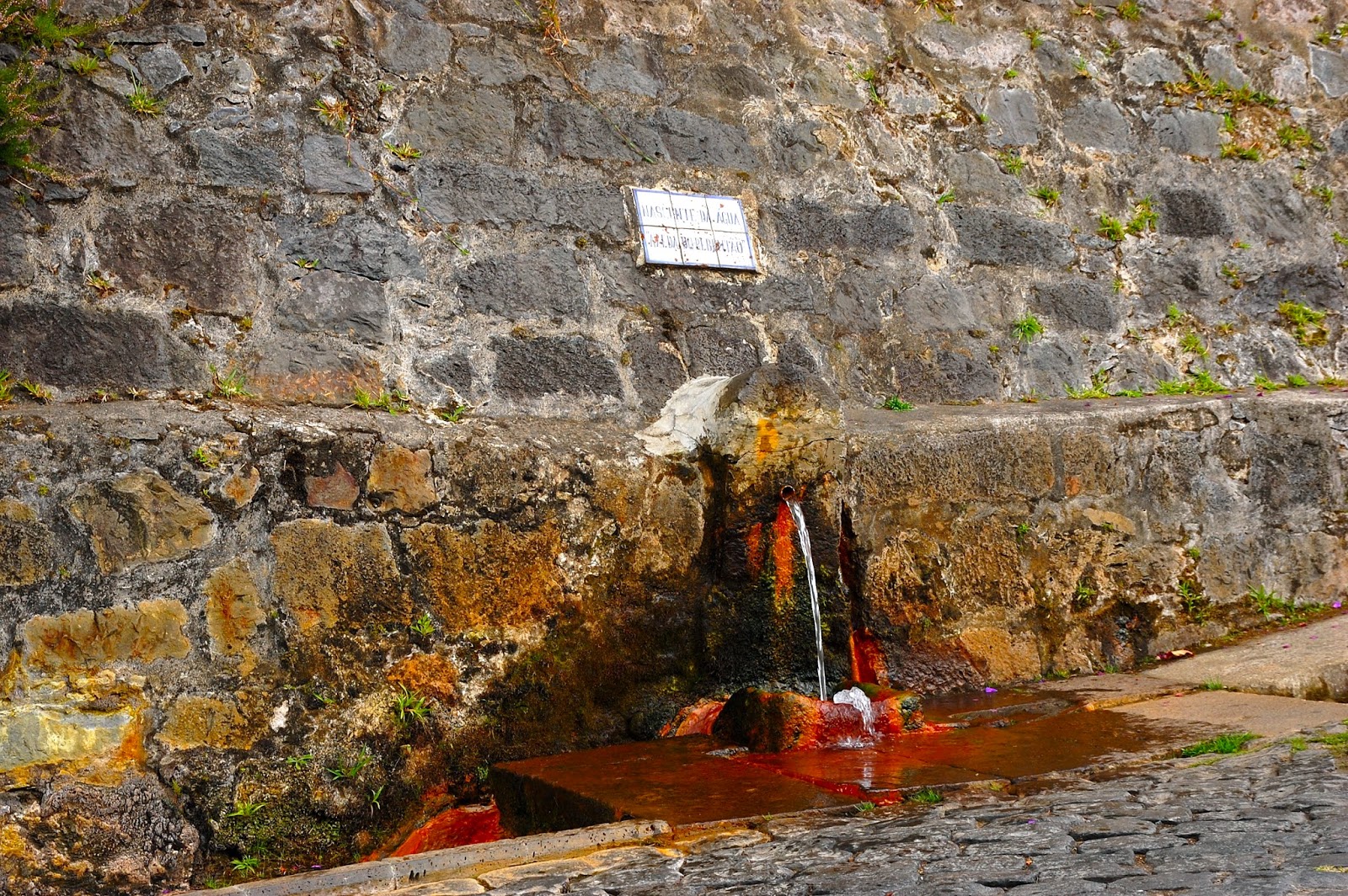 Day 5: Ribeira Grande, Tea plantations, Ribeira dos Caldeirões Natural Park, Nordeste, Faial da Terra, Ribeira Quente
Start your day in Ribeira Grande, the second largest city of São Miguel. Check its cathedral and the beautiful garden next to the Bridge of the 8 Arches. Then drive to one of the tea plantations, Porto Formoso or Gorreana. The second one is better known, so it will probably have more people. Azores is the only place in Europe where tea is still produced. Visit the plantations, drink a tea cup, take some tea home and continue to Ribeira dos Caldeirões Natural Park to visit the big waterfall in Achada (spoiler alert, this will not be the only waterfall you will see in this day!).
Nordeste means north-east and though there's a village with this name, I'm referring to the region itself. It has the best beaches and the best views and miradouros! Just drive and stop and drive and stop until you're done to start the trail of Salto do Prego in Faial da Terra. It is just 4,5km long (going up and down) to the waterfall of Salto do Prego, where you can even take a bath! On the way you will pass by old typical houses of the region, some of them being recovered. On the way to Ponta Delgada pass by Ribeira Quente and eat grilled limpets (lapas grelhadas) in Restaurante Ponta do Garajau. The best ones of the island!
Day 6: Ilhéu de Vila Franca and Dolphins and Whale Watching
In front of Vila Franca do Campo there's a volcanic islet whose crater is a perfect circle. The water inside is very calm, comparing to the ocean just beside it. There are boats everyday from June to October. Red Bull organizes also a Cliff Diving competition there, where amazing athletes do their acrobatics in their way to the water. Spend a morning there and on the afternoon drive back to Ponta Delgada, where you can return your rented car, and to a dolphin and whale watching tour. It is 100% sure you will see dolphins, while whales are harder to spot. This companies have men observing from all around the island, searching for the animals, and when they spot one they advert the boats, so you can see the more as possible! The best way to end your week in São Miguel!
If you're interested on visiting other islands of Azores you should know that under the rules of the air transportation model on routes from Mainland Portugal – Azores and Azores – Madeira, SATA Air Açores is required to provide a routing service, free of charge, for passengers traveling within Azores, to or from Mainland Portugal or Funchal, intending to use any gateway in the Azores.
E.g. if you want to visit Faial, you book a flight to Ponta Delgada and then you ask for a inter-island connection flight to Faial for free. But you have to go directly, the maximum you can spend in São Miguel is 24hours. It also works if you are flying in with easyJet or Ryanair. More info, here.