When I decided to go see the volcano Cumbre Vieja in eruption, in La Palma, the cheapest way to get there was through Tenerife. When I visited my friend Jose between Zaragoza and Cuenca, we were talking about the highest places in the world where we had already been and his record was the Teide. So, when I booked the flight to Tenerife, I did it so that I could also visit this island. But, again, I didn't want to spend a lot of money. I was going alone and renting a car in those days, I don't know why, was at exorbitant prices, so I spent 3 days in Tenerife by public transport / hitchhiking.
So I returned from La Palma, arrived at the port of Los Cristianos at 7:30 pm and took a bus to Candelaria and from there a ride with Eduardo, Couchsurfer with whom I set to have dinner, to San Cristóbal de la Laguna. It was very interesting to visit this Canary Island with some locals, too bad it was always at night, when I didn't feel like photographing so much. After some tapas, accompanied by Canarian wine and a good conversation about aviation, I realized that I had just missed a bus and that I would only have another one in about an hour, so Eduardo took me for 20 minutes, in the opposite direction to him, to drop me off near La Orotava, where Marcos Antonio, also Couchsurfer, would host me. Thank you again Eduardo!
It was already late, so I quickly went to bed, knowing that Marcos had to work in the morning and that eventually, he could accompany me exploring the island in the afternoon. The next day, I woke up with this incredible view:
I took a bus to Icod de los Vinos, approximately an hour's drive. Tenerife has a transport card, the Ten+, which I bought at the airport, but then it is not easy to top it up, as there are no machines at the bus stops and not even in the terminals, you can only charge it at the ticket offices, which are often closed. It doesn't pay off. It is also possible to buy the ticket on board, which is what I always ended up doing, although that means always carrying cash.
This village is known for its Millenary Drago, but it was there that I started to pay attention to the beautiful windows and Canarian balconies. I got off the bus the furthest away from Parque del Drago, and walked in its direction along the beautiful streets, passing the Town Hall and the garden that surrounds the Church, where you can see the famous tree perfectly from. This one is inside Parque del Drago, surrounded by other endemic species, but entry costs €5 and I didn't think it was worth it.
From Icod de los Vinos I took a bus to Garachico. It was Sunday, so there was only one bus per hour. When the bus finally arrived that's when I discovered the issue of not being able to top up the card on board and as it was Sunday, the ticket office was closed. I had a €50 bill and a few coins, I was missing 40 cents because the driver didn't accept the bill and even suggested that I go charge the card at the gas station above and catch the next bus, an hour later… Ridiculous! Fortunately, a couple of tourists who came in the front row lent me the money I needed. Along the way, fields and fields of banana trees, one of the most exported products of the Canary Islands.
When I was looking for a Couchsurfer, I sent requests to everyone I could identify with. Since the pandemic started, fewer people accept to receive guests, in addition to the fact that now CS is paid, so many people may not even be active anymore. Before Marcos Antonio accepted me, Martin did, a French traveler who lives on a sailboat, but who told me right away that he wouldn't have much availability to be with me, as he had to study a lot for university. So when Marcos accepted me, I politely declined the first offer, but we still agreed to meet in the town where he is living, for a drink. And so it was!
After a nice local beer, Martin returned to his study and I went to explore this beautiful little town by the sea. There are two main attractions in Garachico, the Plaza de la Libertad, with several churches and colonial buildings around it, and the Natural Swimming Pools, reminiscent of those in Porto Moniz, Madeira.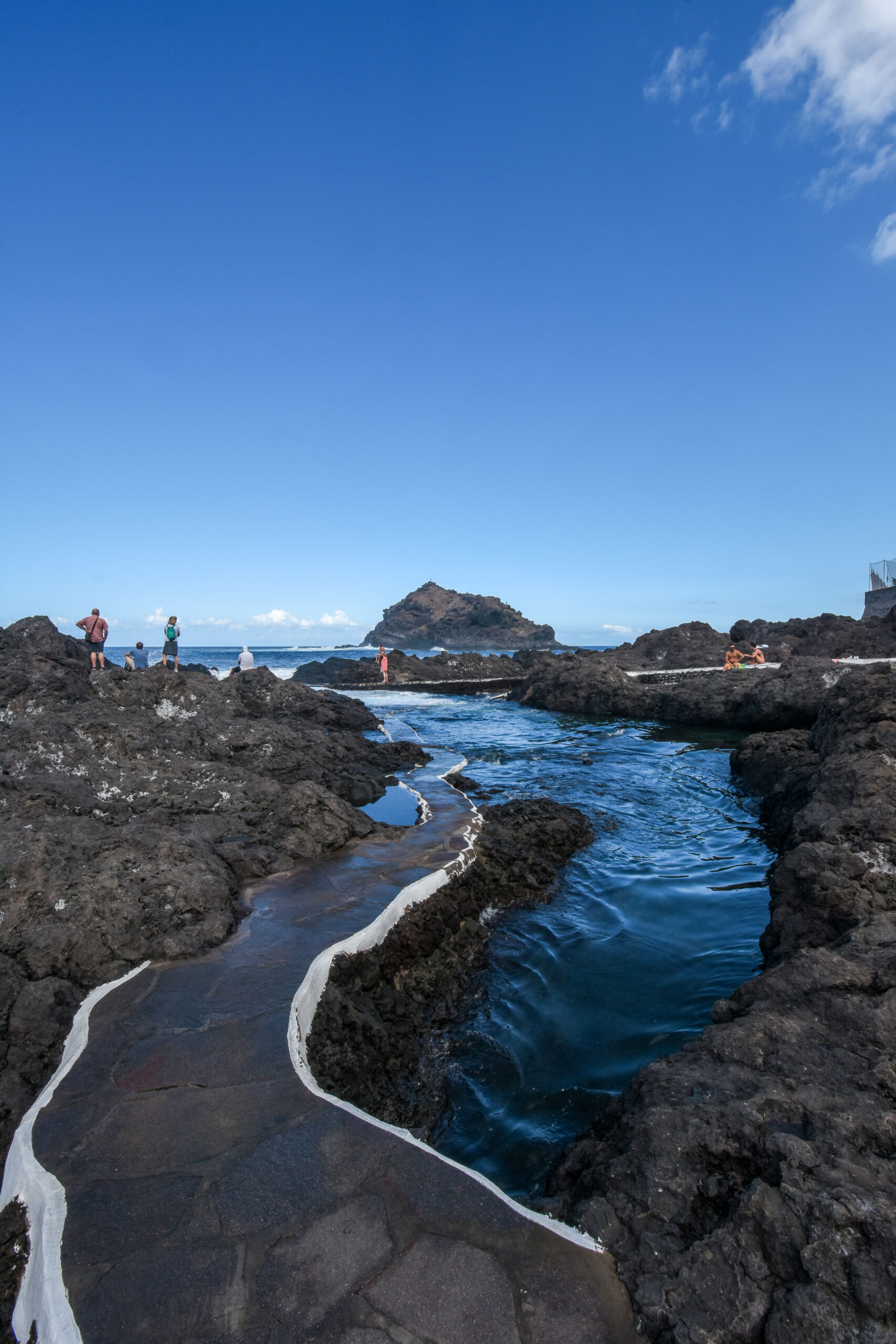 In the meantime Marcos couldn't get out of work, so I continued to explore the island by public transport. I took a bus to Buenavista del Norte and from there I would take another to Punta del Teno, a cape from where you can see the Acantilados de los Gigantes, rocky cliffs 500 to 800 meters high. Unfortunately, the road there was cut because they were shooting some movie, so access was impossible that day.
From there, the bus to Masca also departed, but I still had 40 minutes to go, so I went ahead on foot a few stops. Masca is a small village of 90 inhabitants located in the middle of the Teno mountains. Access is not easy, a winding and narrow road, shows us breathtaking landscapes at every turn, including glimpses of the neighboring island of La Gomera. Half an hour after leaving Buenavista del Norte, I arrived at this village, at an altitude of 750m.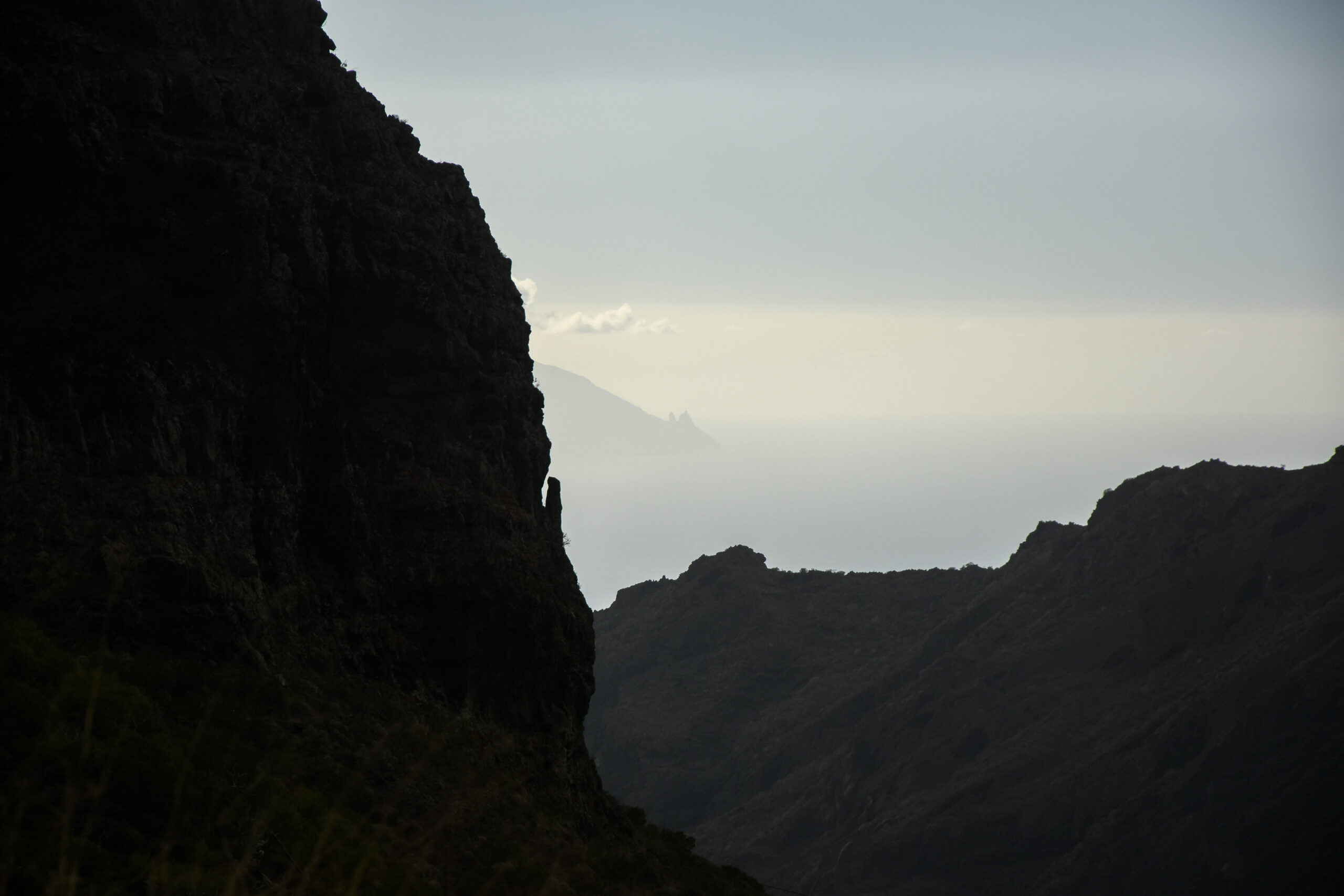 Masca is basically a street, which follows a ridgeline. Masca is beautiful, but also full of tourists. I could even say that Masca is a must-see, that it has a unique light, and that it can be seen quickly or for a long time, for the most contemplative.
But I was still hoping to get to see the Acantilados from Los Gigantes, the city that gives it its name, but I quickly discovered that by public transport was going to be impossible. Between being slow and scarce, the sun was going to set in the meantime… The information about transport was not always clear either, so I asked for a ride to the next town, Santiago del Teide, and there I waited a long time for the bus to Puerto de la Cruz, which took more than an hour, and where I was freezing to death because the windows had to be open because of Covid.
I went to the supermarket in Puerto de la Cruz to stock up for the next day's adventure, and Marcos picked me up and showed me La Orotava while we waited for the pizza we had ordered. Another beautiful colonial city, which I didn't photograph because it was already night and because I had planned to visit it at the end of the next day, which later didn't happen, you'll soon understand why.
The big day arrived, the day I was going to go up the Teide. To climb to the highest peak in Spain, at 3715m, requires some organization. There is a cable car that can take you from 2350m to 3545m, but to reach the summit you need a permit as it is a national park and when I found out about it, there were only vacancies for more than a month after the dates I was going to be there. There is always the possibility of going up on foot from below, to pass before 9 am, when there is still no control. I preferred to go up at decent hours…
I had originally planned to go up to Teide on Sunday, but when I tried to book the cable car on Saturday night, obviously there were no more tickets, so I changed my plans to Monday. My plan was to go up by cable car and go down on foot. It was good, because Marcos had to be very early on the opposite side of the island, and he wanted to go up driving through the mountain because it is more beautiful, so he left me at Roques de Garcia, an impressive rock formation, around 8 am, which would give me time to then walk to the cable car, 4.5km away, to go up at 9:30 am, the time I had booked the ascent.
I started to walk towards the cable car, a long straight road, seeming I was not advancing. I decided to hitchhike and the first car, with two French tourists, stopped right away and took me to the destination, where I still had time to have breakfast, go to the bathroom and buy a magnet, before going up.
I confess that I was a little apprehensive about the ascent because I had never been to such a high altitude, but the truth is that I didn't feel anything, no shortness of breath, no headache, nothing. I was just sorry that the cable car was so full, as I couldn't have a good view in all directions when going up. Up there, it was possible to see the neighboring islands of Gran Canaria, La Gomera, and later also La Palma and even the volcanic ash.
My plan, marked in red on the map below, was to walk to Pico Viejo, return, and then go down the Montaña Blanca trail (n.7, on the map). I don't know what happened, but during my research, I thought this was the only way to get down. I also thought that Pico Viejo, the ancient summit of Teide and with an impressive crater of almost 800m in diameter, was much closer than it actually was (Google Maps said it was 500m, 15min on foot, but now that I was there, I understand the error of the machine)…
I walked the obligatory trail 12, which takes us to the viewpoint towards Pico Viejo. But I wanted to go there! So I went down, through the petrified lava, 500m, but of altitude, for more than an hour and a half, always wondering if I should actually go down all that if I would have to go up again later, but I ended up doing it. As you can imagine, I ended up not going up again and ended up taking the trail that is marked in green, on the map below, but with some mishaps.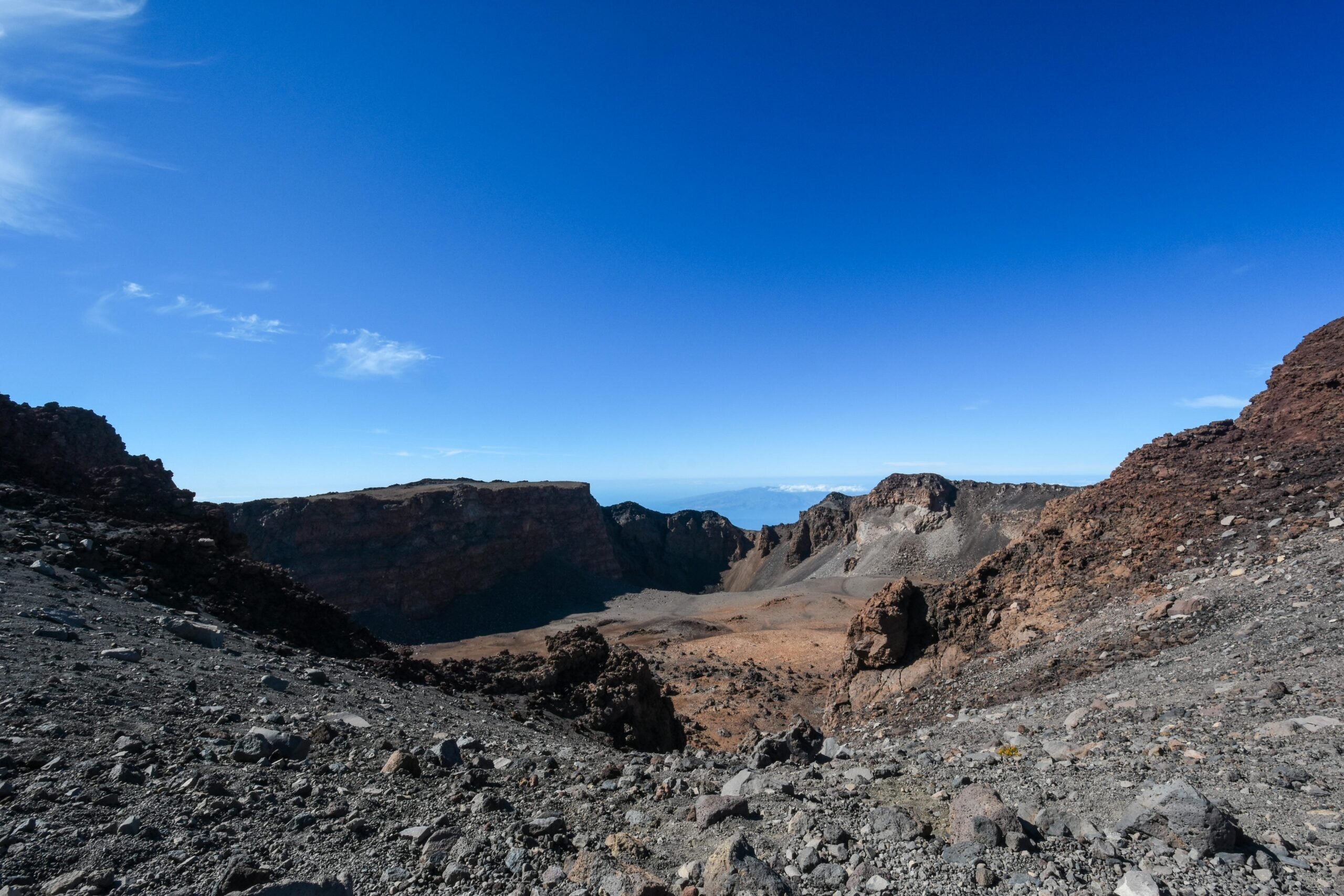 I finally arrived at the Pico Viejo crater! And most of the people who were there with me were going up the volcano on foot, through the longest way! I also tried to go back up and keep the initial plan, but my physical condition didn't allow it. I had to decide whether to go down trail 23 or 9/28. The first ended at Roques de Garcia, where I had already been, and the 9/28 was longer, and I felt I had to somehow compensate for my withdrawal from going up again, so I opted for the second.
I wasn't alone on the mountain, there was a German a few meters ahead of me, and several people in the opposite direction. Until suddenly the trail was very difficult to recognize and there were no longer people in the opposite direction… The German and I went off trail, and behind us were two Englishmen doing the same mistake. Thus began the three most difficult hours of my life! Going down an off-track volcano is not easy, we were on very steep terrain, with a lot of sand, I had to take off my shoes every 5-10min to remove stones, we could the trail below, it seemed close but wasn't! If it weren't for my teammates, who didn't leave me behind, who supported me morally, it probably would have taken me twice as long. My legs were close to exhaustion, an hour and a half after the most horrible descent ever, we were finally back on the trail… But there were still 3.5 km walking to reach the road… I almost couldn't believe it when this nightmare was finally over!
Meanwhile, the sun was already low, the visit to La Orotava no longer made sense, and I had to get a ride back to the north of the island, as my three companions (and most of the tourists) were heading south. It took me about 10 minutes to realize that I was on the wrong road, I walked another 500m and at the Boca Tauce Viewpoint there were two Hungarians who were heading towards the Teide Astronomical Observatory and left me at the road that went down to La Orotava.
After 5 minutes, Bernt, another German, stopped (the Canaries are full of Germans, the signs at the airport are even in German before English). This trip was the first time I hitchhiked and I was very lucky! For those who don't know, I speak German, and these 40 minutes on the road were super fun, good conversation, he had already worked in Portugal, and in the end, he even dropped me off at Marcos' place!
Things I learned that day: Don't go to Teide without gloves. I went with snow gloves and as soon as it got warm, I was able to tie them to my hands, so I could use them as pillows to hold on to rocks, support descents, etc. And since you're taking gloves, bring a lot of clothes all over your body 😛 We're above 3000m altitude, it's cold, even if at sea level it's 20ºC.
Last day in Tenerife, I was flying that afternoon, so I woke up early, said goodbye to Marcos, and took the bus to San Cristóbal de la Laguna, now to see it during the day. After all, it is the colonial pearl of Tenerife, a UNESCO heritage site, and you cannot miss it. Even so, it seemed more beautiful at night than during the day, perhaps expectations were too high.
I passed the Plaza del Adelantado, the Catedral de la Laguna, the beautiful former convent of San Agustin and the Iglesia de la Concepción. But the most beautiful things about this city are the pedestrian streets and colonial houses that are among these points of interest.
But I just finished visiting La Laguna ahead of schedule, so I took the bus to Santa Cruz de Tenerife, the capital, earlier. I would always have to go there to change buses to the airport, but that way I was able to quickly visit the swimming pools of the Parque Marítimo de Santa Cruz, designed by the Canarian architect César Manrique, and the neighboring Auditorium of Tenerife, a project by Santiago Calatrava, with the right to an extra – the San Juan Bautista Castle.
Finally I took the bus to the airport and then the plane home. On the way up I managed to see the Teide again and say goodbye to these wonderful five days in the Canaries. Many things were missing, due to lack of time and mobility – seeing the Acantilados de los Gigantes, Anaga Park, La Orotava with light, the beaches, among many other beautiful things to do in Tenerife!
Out of curiosity, even just paying €75 for the flight, staying in Couchsurfing for three of the five nights, taking public transport and hitchhiking, and eating at home whenever possible, the short trip cost more than €400. Note that just the ferry to La Palma and back was €115.
If you liked this post and want to read more about my trips to Spain, you can visit the following posts: