Cuba is a country that has always been present in the conversations in my house, one of my father's dream destinations, communism in its purest state. I was living in Mexico when it get started speaking about the opening of the embargo that the American government imposed on Cuba in 1960, in response to the expropriations of the properties of American citizens and companies on the island, carried out by the still incipient Cuban revolutionary government. This "threat" of openness, coupled with the fact that one of my housemates was Cuban, made me spend my Easter holidays on the largest island of the Caribbean.
Actually my opinion on Cuba is not totally positive. At the end of two weeks, I left there quite tired with the constant begging, with the immediate association that if we are there it is because we have something to give them, with the constant enticement of any service they have to offer, especially taxis. The truth is that when I arrived there, my knowledge about the political and economic state of Cuba was not much and when I arrived I could not identify myself with this reality, put myself in the role of this people.
If you are waiting for Cuba to be cheap, you're wrong. Cuba is cheap for Cubans (cheap in our eyes, many have no money for toilet paper), but very expensive for tourists. There are two currencies in Cuba, the CUC, the currency for the tourists, where 1CUC = 1USD, and the CUP, the currency of Cubans, where 25CUP = 1USD. You can eat for a day, in CUP, for less than 1$. In CUC, a visit to a restaurant costs always at least $10. A double room in a hotel (all owned by the state) costs $200 per night. One can always go to the "Casas Particulares" which usually cost $25 per night per room.
There are buses for Cubans (monta gente, as I once heard) and buses for tourists. While we could get into Cuban restaurants and pay with their currency, to get into cuban buses is impossible. If you are traveling in a group of four, a "Taxi Colectivo" can be cheaper. You can also try to find other tourists who have the same destination and go together. We did it between Viñales and Trinidad. It was only 2$ cheaper, but we made the journey in 7 hours instead of the 10 hours that the bus took and the taxi takes us from door to door of the hotels/private houses.
Almost all cars in Cuba are taxis. In Havana the old cars make defined routes, like the buses. You pay 10cents and you can do this route. Of course in the center of the city what they are going to try to sell is a one hour tour, in a beautiful car from the 50's, for 10-30$…
It is also possible to hire someone to take us to a certain place to spend the day. This person takes us, waits all day for us and at the end of the day brings us back. This is what we did on our first day in Cuba with our Cuban friends. Made, my housemate, lives in GÜINES, about an hour from Havana and that's where we stayed every night we visited Havana. Here tourists are something rare, so the streets and houses are in poor state, a French colonial architecture that was left with no care for a long time… but it still has its charm.
But on the first day we went to GUAMÁ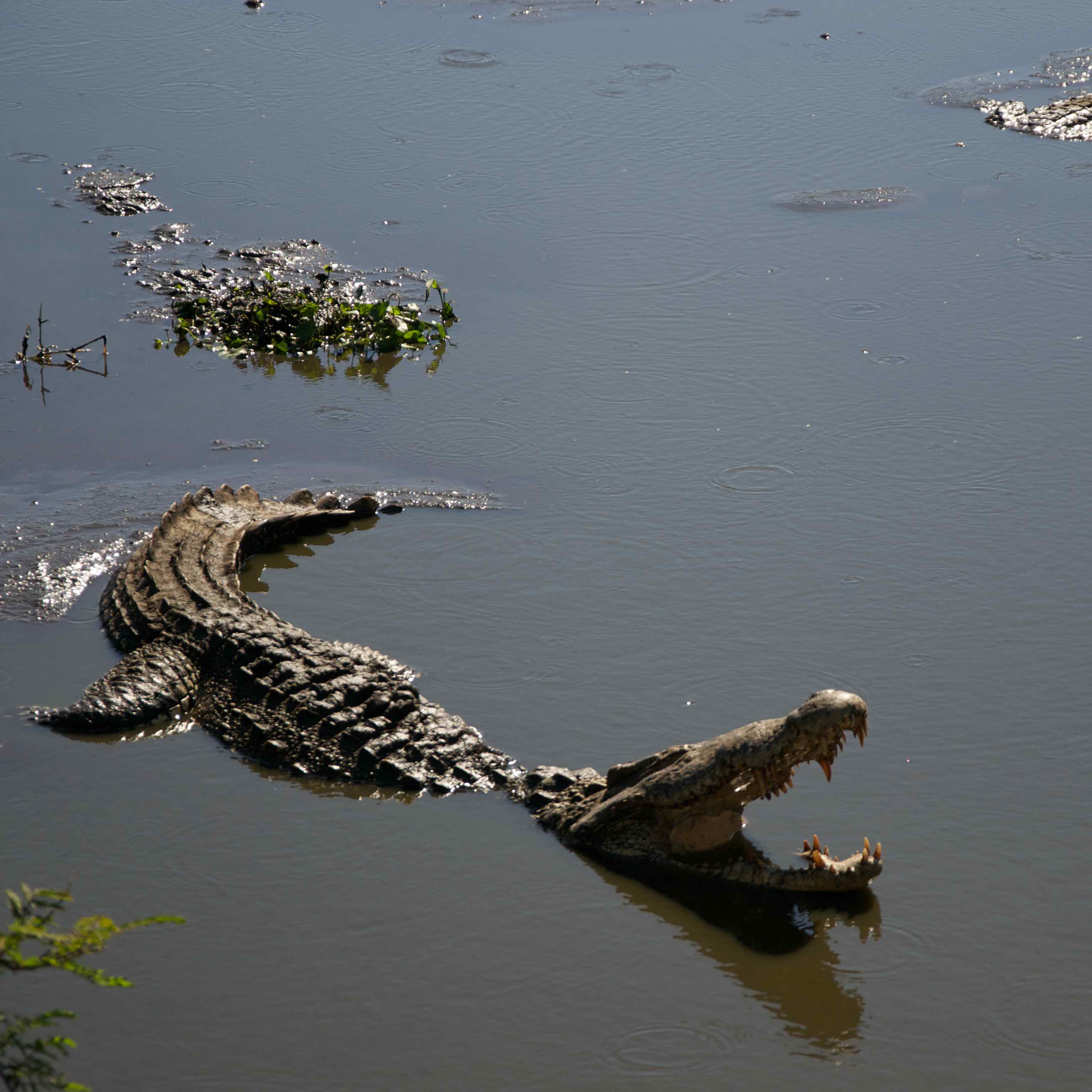 A coastal area in the south of the island, in the province of Matanzas, where there is a crocodile park, where we started the day. It was interesting to see the different stages of growth of these reptiles and end the day at the beach, beach unknown to tourists and full of Cuban families with their Bucanero beers and mojitos. And of course a wonderful turquoise blue water! But honestly we were only there to accompany our friends, this place is not at all a place you must go.
HAVANA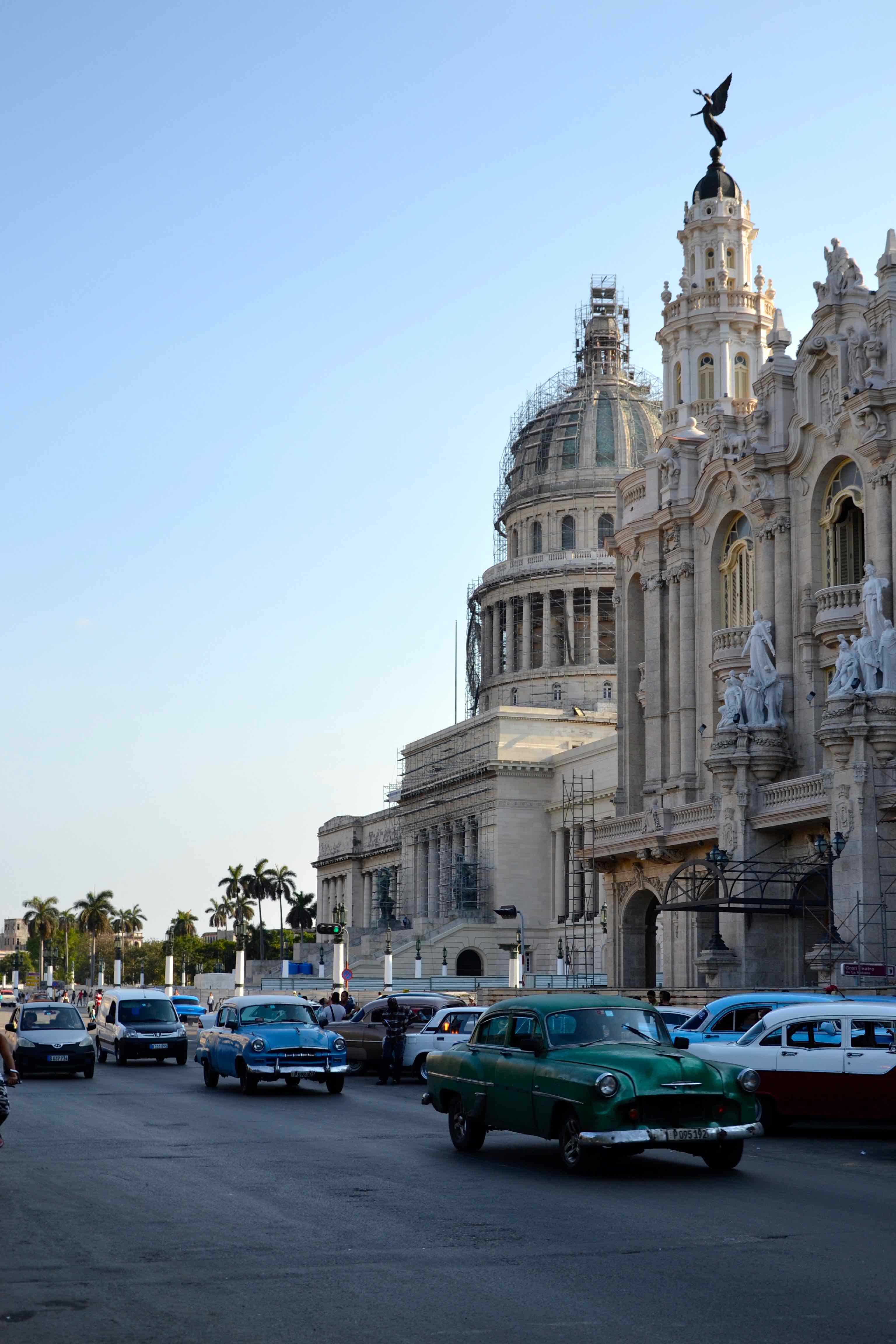 In total we spent four days in Havana (ie, going to and from Güines every day). Havana is where all, or almost all, tourists go, so there is a greater effort on the part of the government to keep it nice and cared for. We passed many buildings in recovering, such as the Capitol, a very present building on the city skyline by its white dome. It is also here that the great need of the Cuban people is less felt. It is also interesting to enter state spaces or private spaces, to see the difference of treatment, the commitment that one puts when things are theirs!
We visited the whole historical center, visited the various fortresses on both sides of the bay (to cross the bay there are boats that cost only 0.5CUP, that is 1/50$), we walked by the famous Malecón (the seaside, full of life), We visited the cathedral and the well known bar "La Bodeguita del Medio"; a tobacco shop of one of the factories, such as the chocolate museum shop. We also visited the Museum of the Revolution, which I think is a must see for anyone who wants to know more about Cuba's recent history and the current state of its politics and economy.
VIÑALES
During our stay in Cuba, we spent half of the time away from Made's home to explore other places on the island. The first and my favorite was the Viñales valley. Viñales is in the region of Pinar del Rio, in the west of the island, and is known for its tobacco plantations and its strange hills that they call mogotes. To get there we took a bus from Via Azul from Havana and stayed two nights at Casa Particular Odalys and Reynaldo (tel: +53 48696937; address Calle Salvador Cisneros, 9A, if you want to stay there, I highly recommend it, including meals). The first thing we did was a horseback riding tour through the valleys. The tours cost $5 per hour, we opted to do five hours, guided by our guide, El Flaco. In addition to the walk through the plantations, valleys, caves and mountains, it included a visit to a tobacco plantation and another one to a coffee plantation, the first one more interesting than the second.
After the great dinner in our Casa Particular we went to the Polo Montañez to dance a bit of salsa and the next day we decided to walk through the valleys … but without knowing that we were going to walk much more than expected – there is the option of renting bicycles, but after five hours on horseback, no butt can ride a bike. We went to the Mural of the Prehistory, a mural painted in the mountains in the 60's, which represents the evolution of species in Cuba. Near the mural we met a man who told us about Casa de los Aquaticos, a family that believes that everything can be healed with water, and that it should have one of the best views of Viñales. He told us that the way was obvious, we didn't find it, we had almost no water, we wanted to give up… until we finally found it and in there they gave us water (if it was special, I don't know). The view was different, since it was from the top of the mountain, but it had so many trees in front that we couldn't see much. We returned home, after 20km hiking and with an adventure to tell! It was my favorite day in Cuba!
TRINIDAD
As I mentioned above we took a Taxi Colectivo to Trinidad. 7 hours later we came to this colorful city between the mountains and the coast of the region of Sancti Spiritus. The driver left us in our Casa Privada, which was more like a hotel, with several rooms in a row and a dining area just for guests. As we still had about two hours of sun light, we decided to go for a walk around the area, until very dark clouds threatened the sky and we returned to the house just before it started raining. That night we went to the central square, bought a tourist price piña colada and then Jorge decided to ask the locals where they would buy their drinks. So we got a bottle of rum at a great price and, already sitting on the Casa da Música staircase, we met two Argentinians, who are still our friends nowadays, and with whom we shared rum and stories. It was with them that we spent our second day in Trinidad, more properly in Playa Ancón, the nearest beach, where we went by taxi. This happened just after we climbed the nearest hill, to see the view from the highest point, and to go up another point, the tower of the Cantero Palace, to see the city from above. Playa Ancón is a very quiet spot, a white sand and turquoise water beach. We spent all day there and in the evening we went to the Casa de la Trova (Cuban intervention music), enjoyed our second and last night in Trinidad with our friends, before each couple follow their way, they went to a resort in a Cayo (island) in the north, and we went to…
CIENFUEGOS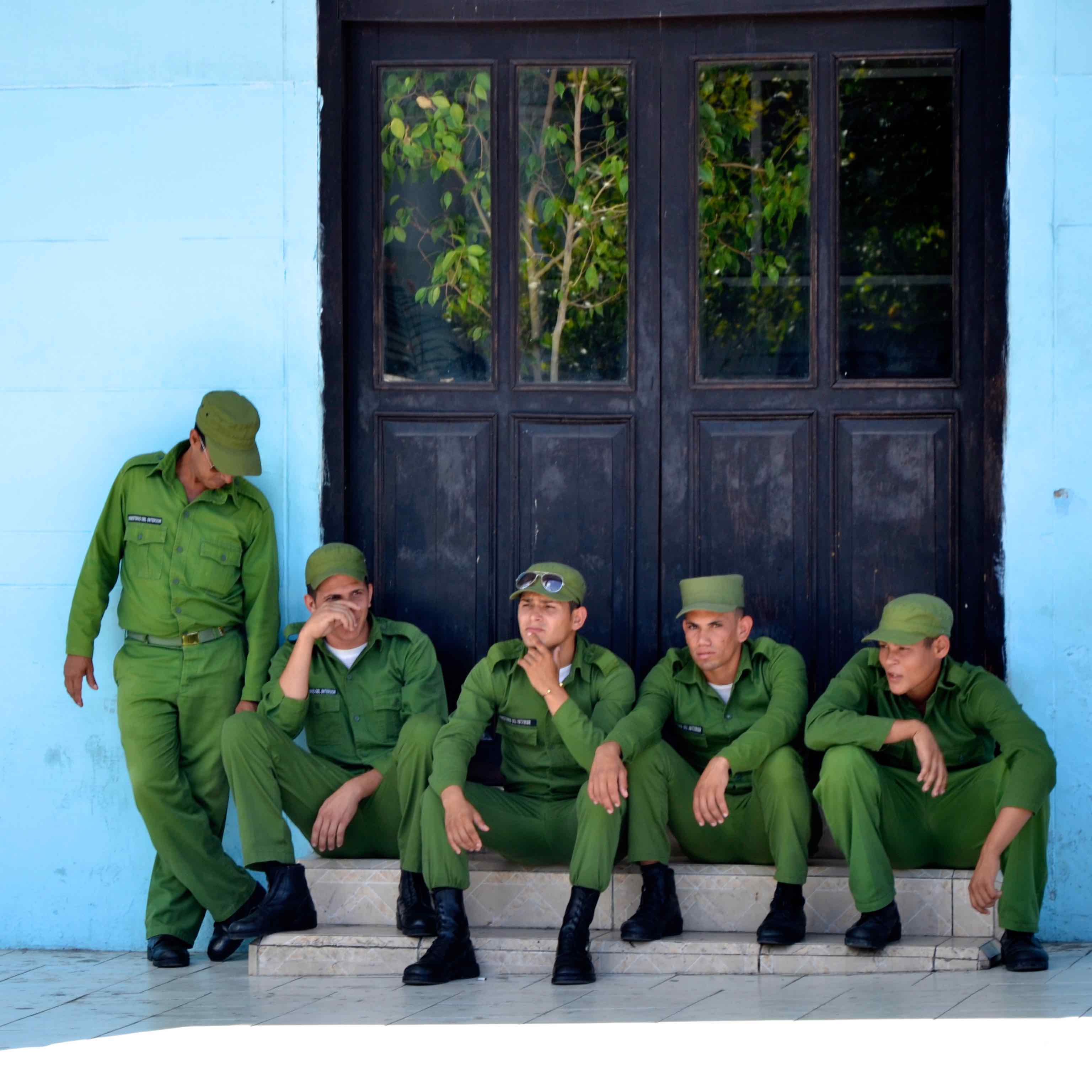 We arrived in Cienfuegos early as it is only an hour away from Trinidad. We went directly toInés Maria's Casa Particular (+53 5343513788; Calle 41 # 5601, Altos entre 56 y 58; inesmarialeon@yahoo.es), near the bus station. Cienfuegos is known by the Paris of Cuba … this if Paris only had a block, because everything else was quite degraded. You don't need to go to Cienfuegos, I would have preferred to stay another day in Trinidad or to go one day earlier to our next destination. We saw the center in an hour. I liked the Tomas Terry theater.
We decided to take a taxi-bike to Punta Gorda, where we thought the beaches were. They were not there but on the way we saw many neo-classical palaces, some from Arab influence. At Punta Gorda we met an old Cuban who had already participated in the Olympic Games and had the opportunity to leave Cuba many times, through championships, something that most Cubans do not have. Now he was retired and had a restaurant. After an hour of conversation we walked back home, it started to rain, then stopped. We watched an incredible sunset from the terrace of Inés Maria house, our favorite host, with whom we had long conversations about politics and music. Also on that night we were fortunate to assist to a live concert on television by trova singer Silvio Rodriguez, who was giving a concert in Panama. One of Jorge's dreams was to go to a Silvio Rodriguez concert, this was the most similar one could have, and undoubtedly an unforgettable night!
VARADERO
In Europe we have the idea that Varadero is more a tourist city, full of resorts, and that the only Cuban people that walk there are those who work in hotels. Well, maybe it is like that in the small hotel area, but Varadero is huge and most of the beach is full of Cubans, who are on vacation, just like us.
We stayed one night in Varadero, but two whole days. This Casa Particular was the one I liked the least, not the house itself, which was great, but because the owners, to make money from it, would abdicate from their own house and sleep in an improvised bunkbed, inside the dispensary.
The beach was wonderful! A never ending white sand, palms everywhere, we even forgot that there was a city behind us. Ahead of us the turquoise tone of the Caribbean Sea! The day after Made came, with all her family, to spend the day at the beach with us and then took us back to Güines at the end of the day. Varadero was the perfect place to end our vacation in Cuba, we could to relax and forget a bit about all the begging.
P.S. For those who are counting the days, we still stayed one day in Güines, to rest and get to know Made's family better. We even had the opportunity to go to a Cuban "supermarket", quite interesting experience. Now and with some distance, I think this was the travel that made me grow more and to think about social and political differences and how it influences the life of a community.
If you liked this post and want to read more about my trips in the american continent, you can visit the following posts: