Last year in May Jorge and I travelled to Morocco. I was pretty excited, as it was one of the close destinations I always wanted to visit. 
From the airplane we could see how diverse the landscape was, but also how dry and hot everything should be. We flew to Marrakech without big plans and just our Riad address. The first impression was great, as they were rebuilding the airport and the architecture was gorgeous!
We took the bus from the airport to Jemma el Fna Square, the cheapest way to get to the city, and from there we walked to our hotel. It wasn't easy at all, as we didn't have a map and all the little roads inside the souk are a bit labirynthical. And we were also lucky that no man tried to take us there in exchange of a lot of money, as we heard it happened to other people.
Our hostel,
Riad Ben Saleh
. Really comfortable and really affordable! I highly recommend it! We booked a private room with bathroom and we got an extra terrace, almost private! And everything for 10€ per night per person with breakfast included: great bread and croissants, orange juice, mint tea…!
As we arrived to Marrakech in the middle of the day we still got a bit of time to explore a bit before sunset. We started with the obvious, the souk and Jemaa el Fna. In this square you have everything going on, and even more at night. You have natural orange juice trades (0,4€ the glass), women trying to paint you a henna tattoo – and be careful because they charge it five times more what it really values and the paints sometimes are not pure and two days later it just seems you have a skin desease – , there are men with little monkeys, men with snakes, musicians, argan oil sellers… everything to have your money!
Next to the square there's a big mosque, La Koutoubia, where no muslims can't enter, which was a pity because outside was very beautiful!
Marrakesh is known as the ocre city and Morocco has a lot of one-color-cities, like Casablanca which is all white or Chefchaouen which is all blue. It is also a walled city but the center is so big you don't even notice you are inside walls. Also the center is like a big market, it doesn't end, just streets and streets full of amazing spices and lamps, pottery and clothes! We then went to one of the terrace bars of the main square to have a glimpse of the city from a higher point, also one of the most common views of Jemma el Fna. At night more things are added to the square like snail soup carts and also thousand of "restaurants" which all sell the same – couscous and tagine – and it is a fight to see who "wins" the tourist! The prices in these restaurants are pretty "touristic", though it is affordable if you pay attention to the prices.
As I wrote earlier we arrived to Marrakesh without any big plans. In the morning we headed to the Marrakesh museum. Some guy told us it was closed and tried to take us to the Tanneries and get money for that. We arrived there and it was so ugly and it smelled so horribly that we decided to go away and try to find what to visit around the museum.
We found what we were looking for – which in Marrakesh isn't always easy – the
Medersa Ben Youssef
, or also known as koranic school. Nowadays it doesn't work anymore as school and it is just a very beautiful palace that you can't miss!
We then discovered a palace just next to the koranic school, a kind of cultural center, with free exhibitions, in this case a photographic one about Jemaa el Fna Square and its activities. We then continued through the streets of the souks, searching for a place to eat. As Morocco isn't very expensive we tried always to eat in "touristic" places in order not to get sick from the food – the most impressive are the sweets full of bees! We decided to go to
Café des Épices
 a very touristic place with a nice terrace from where we can have a different perspective of the city.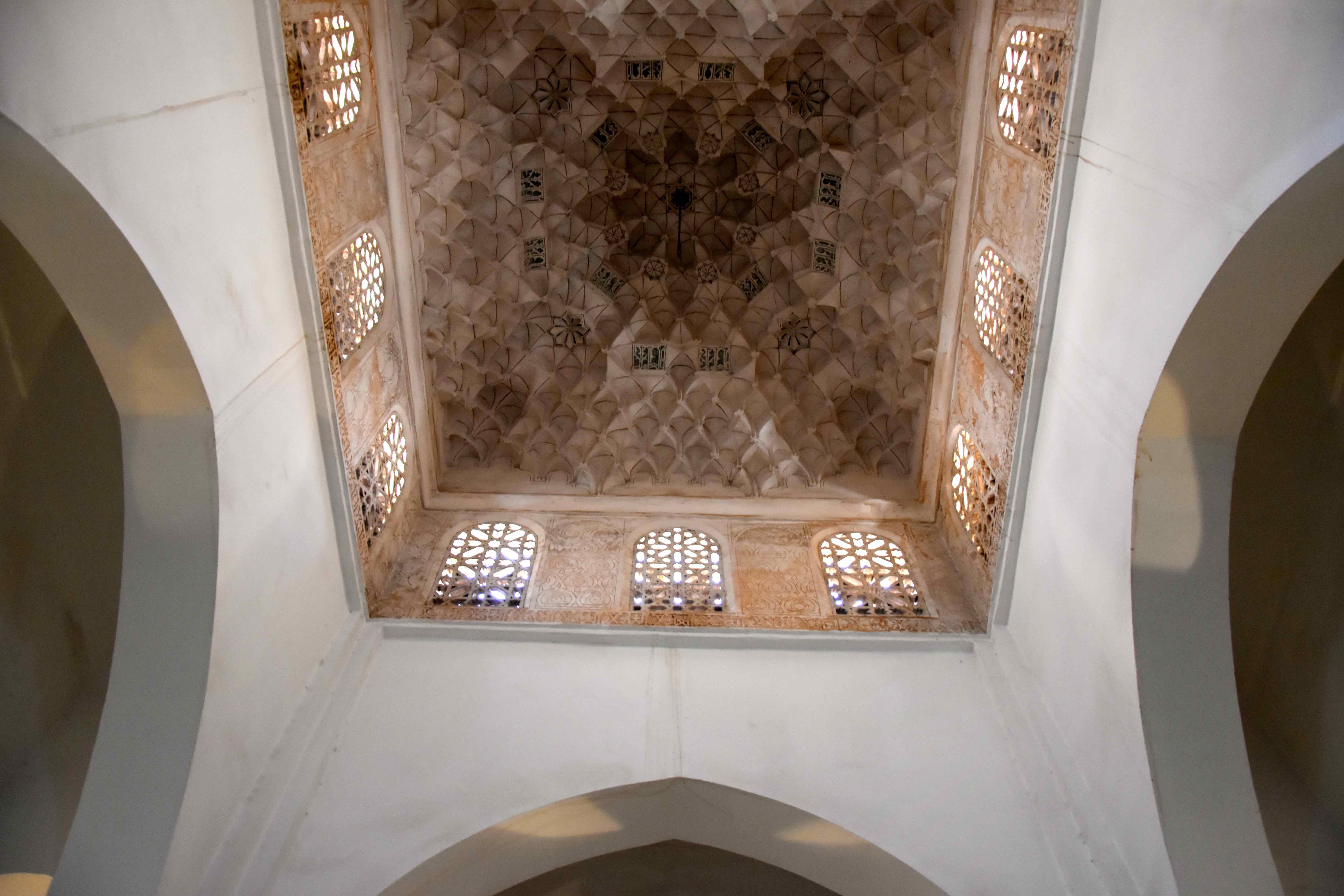 We then continued to
Palais Bahia
, but it was already closed when we got there (it closes at 16h30, everything in Marrakesh closes too early, search for the schedules before walking anywhere far away!). The other palace,
Palais el Badi
was also closed but for a Humor Festival, so we couldn't visit it at all. We decided to go back to the Riad to rest a bit. We would go back the next day to Palais Bahia, this time with our new spanish friends we met the night before at the hotel, after having dinner on a nice terrace in the souks.
After visiting the palace we took a taxi to visit the
Majorelle Gardens
 but when we got there we realized it was way too expensive for our budget and decided to walk back to the city center. After lunch we visited the
Saadian Tombs
, which are in a part of Marrakesh with a recent urban plan, so everything looks nicer! We had to run to visit them because the last entry is at 16h30.
We ended our day early because the next morning we would have to leave the hostel at 7am to go to our three day tour though the mountains, valleys and deserts of Morocco.
Three days later and after an amazing adventure outside the city we were back in our lovely Riad! On the last day we just had time to buy our last souvenirs and eat our last tagine before heading to the airport. We flew to Madrid, where we stayed for a night and then to Lisbon. Our flight had a problem on one engine so apparently we had to do an emergency landing – which we just discovered when we saw the news, inside the plane everything was pretty normal.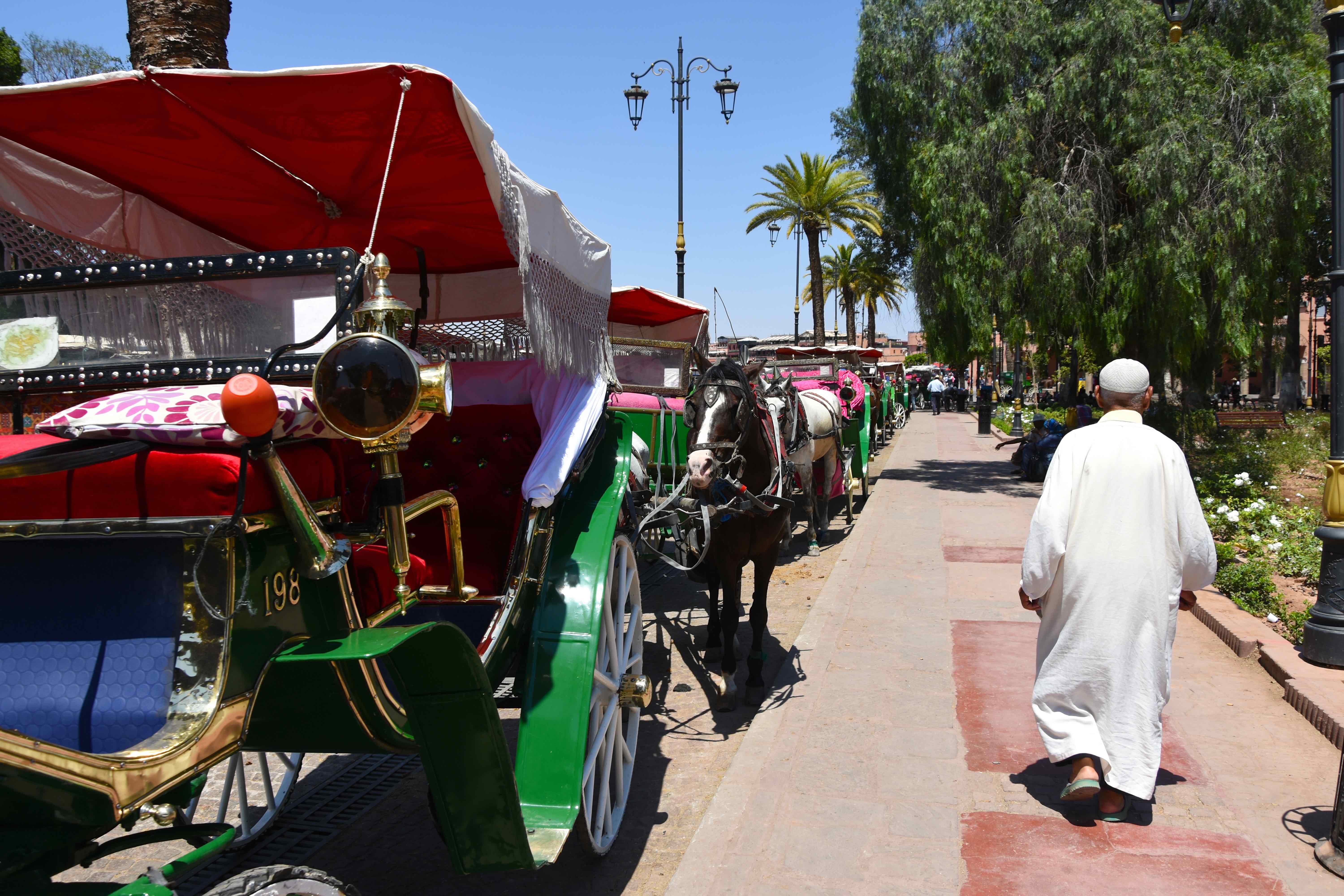 If you liked this post and want to read more about my trips to Morocco, you can visit the following posts: