Daniel is 37 years old and has lived in Phnom Pehn for 3 years, after being there volunteering for six months in 2011, an experience he loved, one of the reasons that made him want to return. He works as a university professor and academic advisor in the capital of Cambodia and appeared on the RTP program, Portugueses pelo Mundo, in the episode about this city.
First of all, why Phnom Pehn?
My moving decision it's a long story but can be summed up in 3 points:
 I've been here as volunteer in 2011 and I've loved the experience, I've felt identification with the country's culture and personality, so I've set the goal of "coming back here one day";
The conditions and (lack of) working options that I could find in Portugal were not the ones I consider the most suitable for myself;
On my 6 month volunteer experience in Cambodia, I've realized the growing potential and the need of qualified human resources of the country.
What expectations did you have of the city and country before you arrived? Is reality similar to those expectations?
I had been here before in 2011, but in a completely different set, totally supported with european and khmer NGOs, with a volunteer group, with hosting, insurances and everything else taken cared. This time I was on my own, literaly in the other side of the world with 2000 euros in my pocket and a way back to Portugal after 6 months, which by the way, was giving me a great feeling of absolute freedom, at the same time I was a bit fear of having golden my memories or that the country had changed too much since my last time here. And shortly that was the situation when I landed in Cambodia in 2014. After 3 years, I can say that the country welcomed me with touching kindness and that at this stage I feel that I have exceeded my goals and achieved my dreams completely.
What do you like the most about Phnom Penh?
The people, the weather, the landscape and the freedom.
And what do you like the least?
The traffic jam! The rush hours are becoming more and more chaotic, it's a city growing way too fast.
How do you characterize Cambodians?
They are wonderful people, lovely, respectful, curious, helpful, great hearted, from the majority that I know, it's hard to imagine them crashing babies against trees a few decades ago, during the Khmer Rouge regime.
What is a normal day like for you there?
It depends, if it's during the week, around 9 or 10 am, I'll go for a bike ride around the city, stoping in some street food places to drink coconut or sugar cane juice (I can't get tired of this tropical offers), then go to the street markets to get something, mostly (tropical) fruit. Then lunch, bath and go to school, usually I start at 2pm and finish at 5 pm, if it's Friday night I'll go to have a drink, on regular days I just go home.
On weekends, I like to go around driving motorbike, go out of the city, see the countryside and the tribal villages, or having more time, usually I get a bus and go to the shore and islands, Kampot, Kep, Sihanoukville or other provinces from Cambodia like Oudom or Kirirom.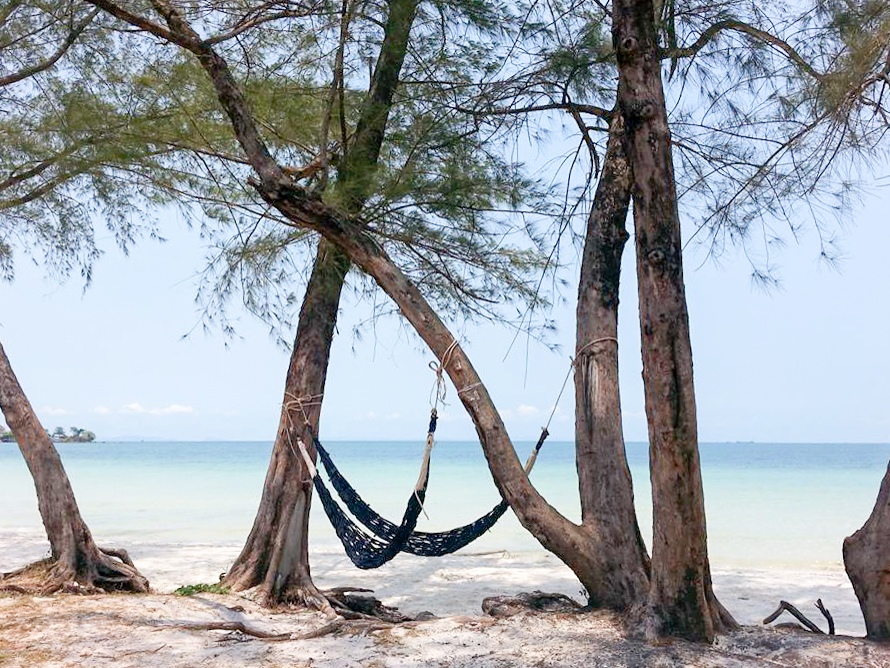 If someone were to visit Phnom Penh and only had 3 days what would you suggest to see and what to eat and where?
Visit the Russian, Central or any other markets. To see, eat and buy recuerdos … a meal costs around $ 2 USD.
The river area, where most guest houses, bars and restaurants are located, cannot be missed. The Royal Palace, the National Museum and the night market are places to visit in this area. Take a stroll by the river or have a drink in a guesthouse with a rooftop pool overlooking the Sap and Mekong rivers, or rent a boat for a few hours to go down one of the rivers. It is also the area of ​​happy pizzas (with grass), and as in all tourist areas where there are most beggars, sex tourism and the sale of various drugs. Here meals cost between $ 3 to $ 6 USD, a 1.5l bottle of water between 50 cts to $ 2 USD, a beer can range from 50 cts to $ 1.5 USD and cocktails range from $ 1.5 at $ 4 USD.
Other activities of interest are watching the sunset at Independence Monument, going to Diamond Island, riding a tuk tuk or rickshaw around the city and of course interacting with the locals.
For the strong, or for those who like heavier scenes, the Toul Sleng Museum and the Killing Fields are two good places to learn more about Cambodia's history in its darkest days.
Do you have some tips for offering us how to save money in Phnom Penh?
Phnom Penh is ranked as the 3rd most expensive capital in the south east of asia, still cheaper than for example Portugal. We can save if we know were to buy, the local places are a good choice but they don't have the offers in the format we are used too, also being inexperienced foreigners some sellers can overprice it for you, but once we learn how to deal with the local markets it's a must to buy there. Anyway, there are a lot of offers, in medium restaurant you can have a meal and drink with a $ 5 USD budget. Or you just can eat rice with chicken or pork in the street for $ 1 USD.
What is the biggest "tourist trap" in the city?
As far as I can say, there are no major or common tourist traps, it can happen someone passing by motor and try to pull your purse or bag.
Where in the city should we look for accommodation and why?
The riverside area is where you find most of the tourism offers, hosting for around 8 to 12 USD per night (double room with fan). Then other parts, Wat Lanka is the preference of some backpackers and there are some guest houses around the city, usually with swiming pools and good standards (20 to 40 USD per night).
And what are the best places to go out at night?
Again, the riverside, street 51, Wat Lanka e Bassac Lane.
What is your favorite place (neighborhood, building, cafe, bookstore …) or favorite activity?
I'm always around, don't have exactly a"favorite place". I like busy places, where I can seat and just observe people coming and going. I tend to prefer places with water element, lately I'm enjoying a nice outdoor restaurant, on river front, where they serve 1,5 USD frozen margaritas.
What would you answer if someone asked "You can't you leave Phnom Penh without …?"
Have a drink anywhere busy and just observe and appreciate Cambodia's life style. 
If you liked this post and want to read about my trips in Asia, you can visit the following posts: