Vera is an architect, she is 25 years old and lived in Patan, Nepal for 4 months in 2016. Her text is exciting, but nothing better than telling us why she went to this country, which is rarely in the top of destinations to visit from the recurring traveler. It may be that with this text Vera helps you to change your mind!
When I said I was going to Nepal, everybody asked me why? Why Nepal? I remember it as it was yesterday, the day I was at the dining table of my house, full of concerns, anxiety and fears, working under the architecture final project. The table was full of sketches and sketches, models, that chaos that every architect and architecture student knows. At the same time I was trying to solve and draw about a problem, I liked to hear the news.
It was 26th of April 2015 and exploded the news about the big earthquake in Nepal. I stopped, I was shocked, without fears, anxiety and concerns about my little problem. In that moment I decided that I was going to Nepal and I would help in the reconstruction. In the next days I thought over and I understood that in going in that moment, I would not be useful as I wanted to be, so I continued and finished the final project, the dissertation and the master, and kept that will with me.
The following months were to prepare and plan my trip, so I left in March of 2016 to stay until June of the same year. The supposed was to work on a school project in a little village, but when I arrived the project was very delayed and would just start in the next year. I searched for an alternative, I went there and I didn't want to be stop. I got in contact and started to work with Architecture Sans Frontières Nepal, based in Patan, neighbour city of the capital Kathmandu. It was the best I could have done, it was very very good, with no doubts the best experience of my life.
What expectations did you have regarding the city and the country before arriving? Is reality similar to these expectations?
When I was about to leave to Nepal, I felt I was ready to what I would find there. I always had the opportunity to travel and the last big trip was to China, where I was through little cities, villages and towns, very needy, I thought I was ready. Well, no. When I landed in Nepal, Kathmandu, I took my hands to the head. I was awaiting a chaos, a big poverty, but… I was shocked. But quickly I got used to it.
The first week I stayed in Kathmandu, a crazy city, a lot of confusion, noise, pollution. When I visited Patan, neighbour city of Kathmandu (possible that a lot of people think it is the same city), I felt more tranquility and it was my happiness when I knew I was going to live there.
About the post-earthquake destruction, as it was mirrored almost everywhere, it was quick to adapt and get used. Even the streets change, the streets started to be supported with improvised buttresses between different buildings. I must admit that I felt, 3 or 4 times, the earth shaking, something that I've never felt before and that I didn't thought I would feel, then I remembered the reason why I was there. Was enough to get scared 1 or 2 times, in which all Nepalese who were nearby knew how to maintain and transmit calm.
I went there confident that most of the Nepalese would speak English – wrong! In Kathmandu more, but in Patan no. But that wasn't a problem for conversations, ask for what I needed or for a smile. The reality I found there wasn't similar to my expectations, but for who lives in another continent as ours I feel that it's difficult to preview another reality without visiting it.
What did you like the most in Patan?
I wanted to say: everything. I got to love "my" city. In love, as everyone stays, with Patan Durbar Square, the main square, surrounded by temples, people adoring it. I was crazy about the courtyards and little streets (under the houses) that connect them. I got lost almost everyday, walking through different courtyards and streets, discovering new architectonic treasures. This city is a live outdoor museum.
I have to underline how fascinating is the devotion of the Nepalese, it brought me a huge interior tranquility and clarity!
And what did you like the least?
The huge pollution that spoils the nature and raw beauty of this country and the fact of the cars being more important than the pedestrians. There's no accidents and everything flows, but… I don't like it. But as the time passes, I started understanding the tricks and signals that the pedestrians used to cross the street when they wanted to without "danger", and after I started using the same tricks.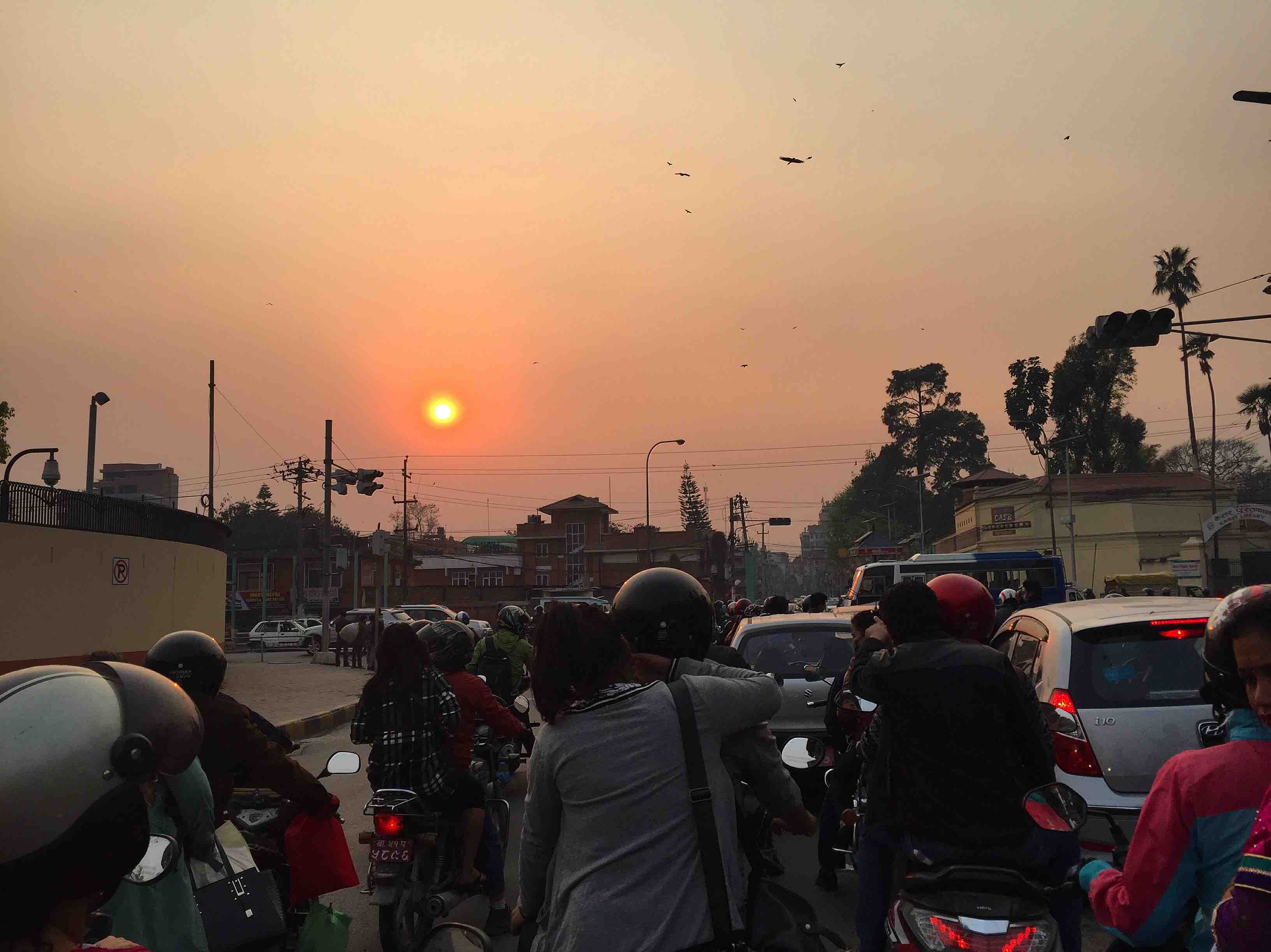 How would you characterize Nepalese people?
An unique people. I admire them with all my strengths. A people suppressed by two great countries, that continues believing, continues smiling every day! Most of them are very shy but always with a smile to give. A very devoted people, with a lot of festivities and adorations to the God(s). Every day from dawn to dusk, there are people making offerings. A people, that even with different ethnicities, is very united and with a lot of strength.
The Nepalese are, without doubts, one of the treasures of Nepal. Thank you!
How was a normal day like for you in Nepal?
I woke up, always very early. I prepared my breakfast, the most nutritious possible to give me strengths for the whole day. While I enjoyed breakfast, I liked to write about what I was living, feeling and learning.
I always went by foot to the office, around 15 minutes. During the walk I was used to see the most pleasant (people adoring the Gods, etc) and unpleasant (meat being sold on the floor/road) things to start the day, but I had the privilege that Durbar Square was part of my way, it fulfilled my soul.
When arriving to the office, composed by a team of Nepalese and international architects and engineers, we worked under the various projects running (of different dimensions and different programs, but mostly about housing (re)construction). The atmosphere was very good and the sharing of knowledge even better. If it was a day to work in the field, a taxi would come to pick us up and take us to the field to work with the families for whom we were working for.
We had lunch all together at the office, always Nepalese food, the famous Dal Bhaat (rice and lentil soup) with chicken or vegetables. That was the moment of more conversation and life experience sharing. After, we would go back to work until the end of the day. The best was to manage to get out of office before 8pm, the time when it started to get dark, the shops closing and you could never expect when there would be light in the streets.
On the way back home, I always liked to stop at Durbar Square, admiring it and if I had a little bit more time I would go to the "Street of Patan" or shopping street, full of little shops of clothes and food. Sometimes I did the way back home with Nepalese colleagues and we stopped in the main square just enjoying. When arriving home, I had my dinner and if there was electricity (it functions by areas and schedules) I would try to talk with the family and friends. If not, I would enjoy my moments of reading and reflection that contributed a lot for my learning and absorption of this country.
At the weekends, I always tried to visit some city or village near Patan.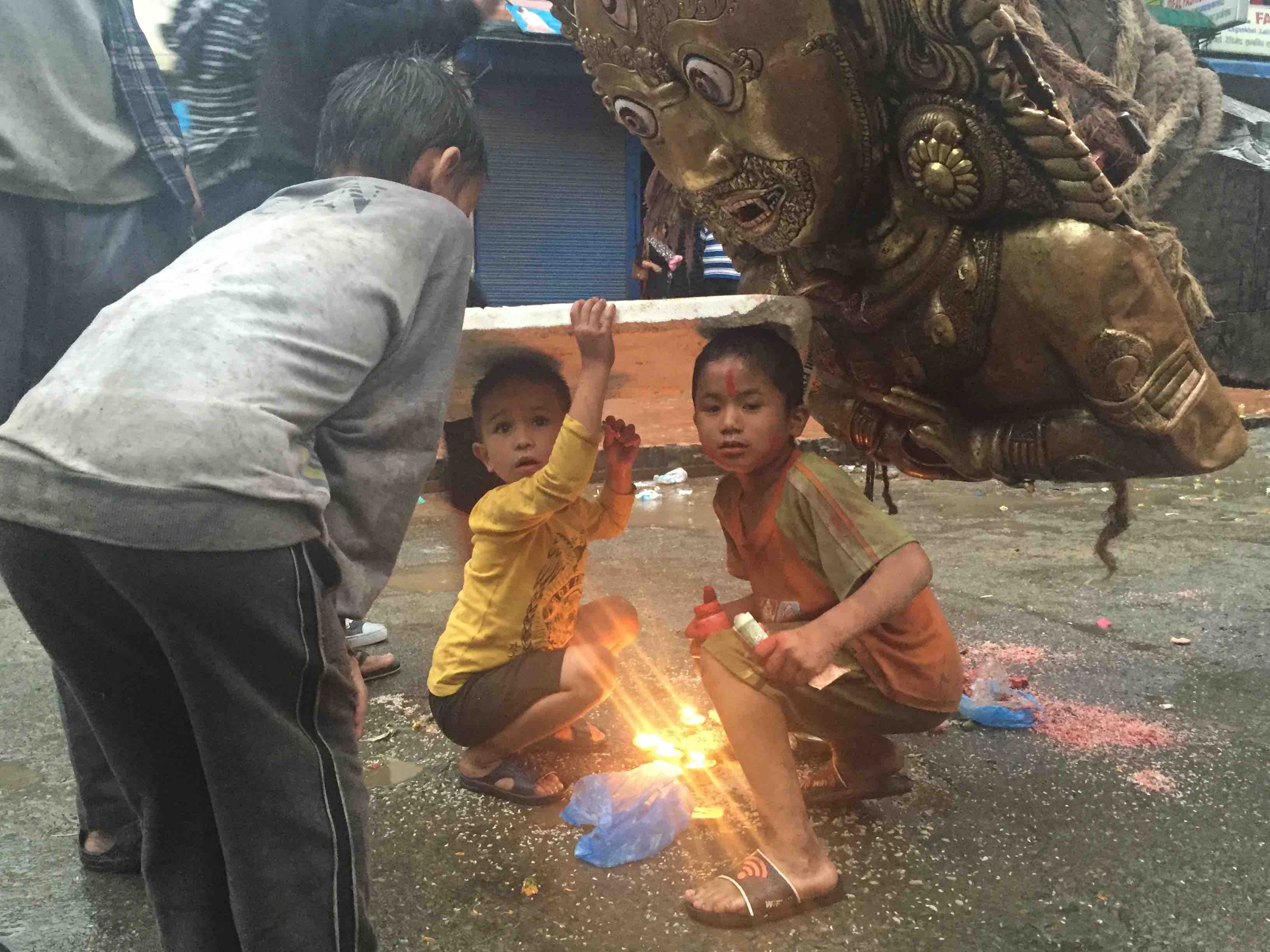 If someone were to visit Patan and only had 3 days what would you suggest for them to see? And what to eat and where?
Patan is a relatively small city, so our transport can be almost always our feet. To go from Patan to the capital Kathmandu, I suggest a taxi, it's fast and easy. It's important to say that the life in Patan starts at 5 am and finishes at 8 pm, when everything closes.
– The first and an obligatory point is Patan Durbar Square. As I already told you, is the main square, surrounded by temples and with a museum interesting to visit. But this square is one of that places that is impossible to equal in words, just visiting it… A very special place.  In this square there's the restaurant The Third World with a superb view to the square and where you can eat good food, a little bit touristic but very pleasant.
– Patan Dhoka is one of the doors of the city. It's not a part that I adore, but is always very interesting to walk through there. Next to Patan Dhoka there's a good bookshop, with a lot of politics, religious and Nepalese architecture books. There's also a restaurant nearby, a little bit touristic, for those who search for more soft food, called Dhokaima.
– It is obligatory to walk and get lost through the courtyards of Patan. The houses are organized around community courtyards (usually by family or by profession) connected by narrow streets, the city is a constant surprise, a courtyard maze, get lost in the courtyards and streets.

– The Golden Temple, near to Patan Durbar Square, is a must visit, it's a Buddhist and Hindu temple. I advise to visit the courtyard in the back of the temple, where there's a Tibetan Bowls professional who does treatments with them.
– As the streets have no name, I present you, what I call, the "Street of Patan" (that goes from Patan Durbar Square to Lagankhel – the Patan bus station), this is the street where most of the inhabitants of Patan go shopping. There are a lot of fabric shops (mainly of Dhaka fabric, that is traditional Nepalese), shoes' shops, and as we get close to Lagankhel we start to see people selling food. I love this street and I tried to went there everyday, even if it was just for a walk. It's interesting to go until Lagankhel, the bus station, just to get perplex with the chaos and its order. There are buses to almost everywhere and very cheap ones. At Lagankhel square there are some restaurants where you can have momos, a kind of dumplings, worth to try.
– The Bhatti are the Nepalese or Newari – an ethnic group of the Nepalese – pubs. There it's possible to drink chhaang (it's a kind of a rice beer, strange at the first sip, but after we just get used), to eat a lot of buffalo, pork and also to drink Raksi, what they call wine, but nothing to do with what we understand about wine, is very alcoholic. I advise you to order, beside for the (strong) meat, some beaten rice, grains, etc, Going to a Bhatti is, with no doubts, a great experience to get into the nepali spirit. There's a restaurant at Patan Durbar Square (exactly behind the Krishna Mandir temple, next to a coffee, and with light green doors), that if isn't a Bhatti, it's very similar, they have chhaang and it's possible to eat other foods as bara, choila, sekuwa… In case of doubt, point it! They don't speak English there. The food is good and truly nepali.
-It was at The Village Café where I had my best meal in Nepal, I don't know if I was lucky but I asked for a nepali pizza (chatamari) and that was truly awesome. In this restaurant you can find yomarees, a nepali sweet hard to find.
-It's not Patan anymore, but who goes to Patan goes to Kathmandu and there are at least two must-visit places in Kathmandu. In Kathmandu it's preferable to move by moto and get into the nepali spirit.
– The Kathmandu Durbar Square is the main square where some temples and palaces can be found. It's possible to be a bit shocked due to its destruction after the earthquake, but it's worth because of its beauty. It's always interesting to get lost in the surrounding streets…
-In Thamel, the touristic center of Kathmandu, there's everything, for whom can't adapt to the food and nepali life, there are different options.
– Swayambhunath, also known as the Monkey temple, is in the surroundings of the city, but easy to get there by bus or taxi, it's a must go place… Words aren't enough.
– And now, last but not least, Boudhanath, near to Patan and Kathmandu. A magnificent stupa damaged a lot by the earthquake. It is a place that exudes tranquility, Buddhism, there are monks all around.
– There's a Tibetan restaurant, Double Dorjee Restaurant, very cozy and with a very nice staff. It's very likely that you'll have to ask for somebody when you get in.
Note: If in some of the places, shops, spots you visit, if you're invited for a Masala Chai or Milk Tea or even water, accept it (even if you'll just take a sip). They do it as a gesture of good manners and hospitality and maybe will be offended with a rejection. Accept it! 😊
Vera, do you have any tips on how to save money in Patan?
Patan is not an expensive city. To do it as a very low cost experience is to enjoy it as a local, going to nepali restaurants, travel by local buses or even by moto. Don't save money with the museums or monuments, enjoy those wonders of the world.
What is the biggest tourist trap in town?
For me is Thamel, in Kathmandu. It's the touristic center and where everything learnt about the Nepalese culture gets transformed.
In which areas of the city should we look for lodging and why?
To enjoy the city of Patan, I advise to stay near the Patan Durbar Square, near to the Nepalese life.
And what are the best places to go out at night?
In Patan there's no place to go out, everything closes at 8pm. To go out the only option is Thamel, in Kathmandu, but I don't think it's worth it. If it's to go for a drink, I advise Thamel.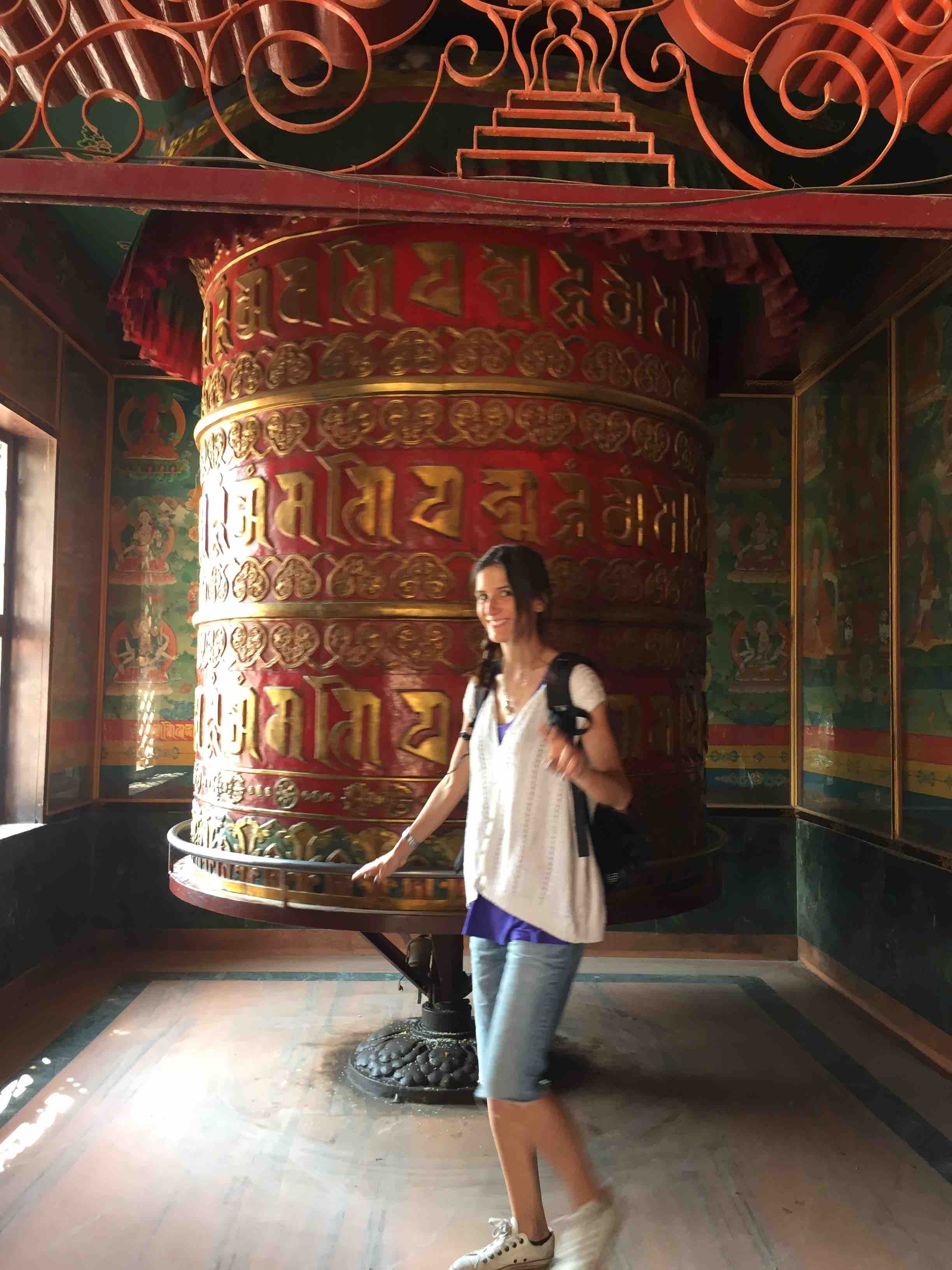 What is your favorite place (neighborhood, building, cafe, bookstore …) or favorite activity?
I loved to walk through the courtyards of Patan, sit down in one and watching, writing and drawing about its life. I also loved, of course, my precious weekend trips, where I would took a bus for a destination near to Patan that I didn't know yet.
Finally what would you say if someone asked, "You can't leave Patan without …?"
Visiting Durbar Square;
A Dhaka fabric;
Respecting the cows;
Receiving a nepali smile.
Thank you very much Vera for your amazing text! I undoubtedly got a strong will to visit Nepal and you?
If you liked this post and want to read about my trips in Asia, you can visit the following posts: