Usually I'm the person who, when traveling, organizes and plans everything. So, from time to time, it feels really good to let be guided! After three days in Zaragoza, always very well accompanied by my friend José, he took me on a day trip to see Tarazona and its Mudejar cathedral. And it feels so good when we go without expectations and get swept away! One of the most amazing, different and interesting cathedral I have ever visited!
There aren't many examples of Mudejar architecture anymore and I was lucky enough to visit the three cathedrals with domes in this style: the Seo of Zaragoza, the Cathedral of Tarazona and then that of Teruel. To climb the dome of Tarazona it is necessary to book a guided tour of the cathedral, which begins in the incredible cloister. Mudejar architecture / art is a style that developed between the 12th and 16th centuries. It is an exclusively Iberian phenomenon that combines and reinterprets Christian artistic styles (Romanesque, Gothic and Renaissance) with Islamic art. It is easily identifiable by the use of brick, structurally and decoratively at the same time. Islamic art also believes that there is no repetition in nature, nothing is exactly the same as anything else, so there are no repetitions in decoration either. Thus, in the cloister, each set of windows is different from the other. And in the ambulatory corridors we find an exhibition on the history of the cathedral, the discoveries made during its long restoration, both from Roman times, as well as paintings hidden under other layers of paint, among other interesting facts.
The climb to the dome is also interesting, in the aspect in which we walk through the ceilings and roofs of the cathedral and from there we have a beautiful view of the city.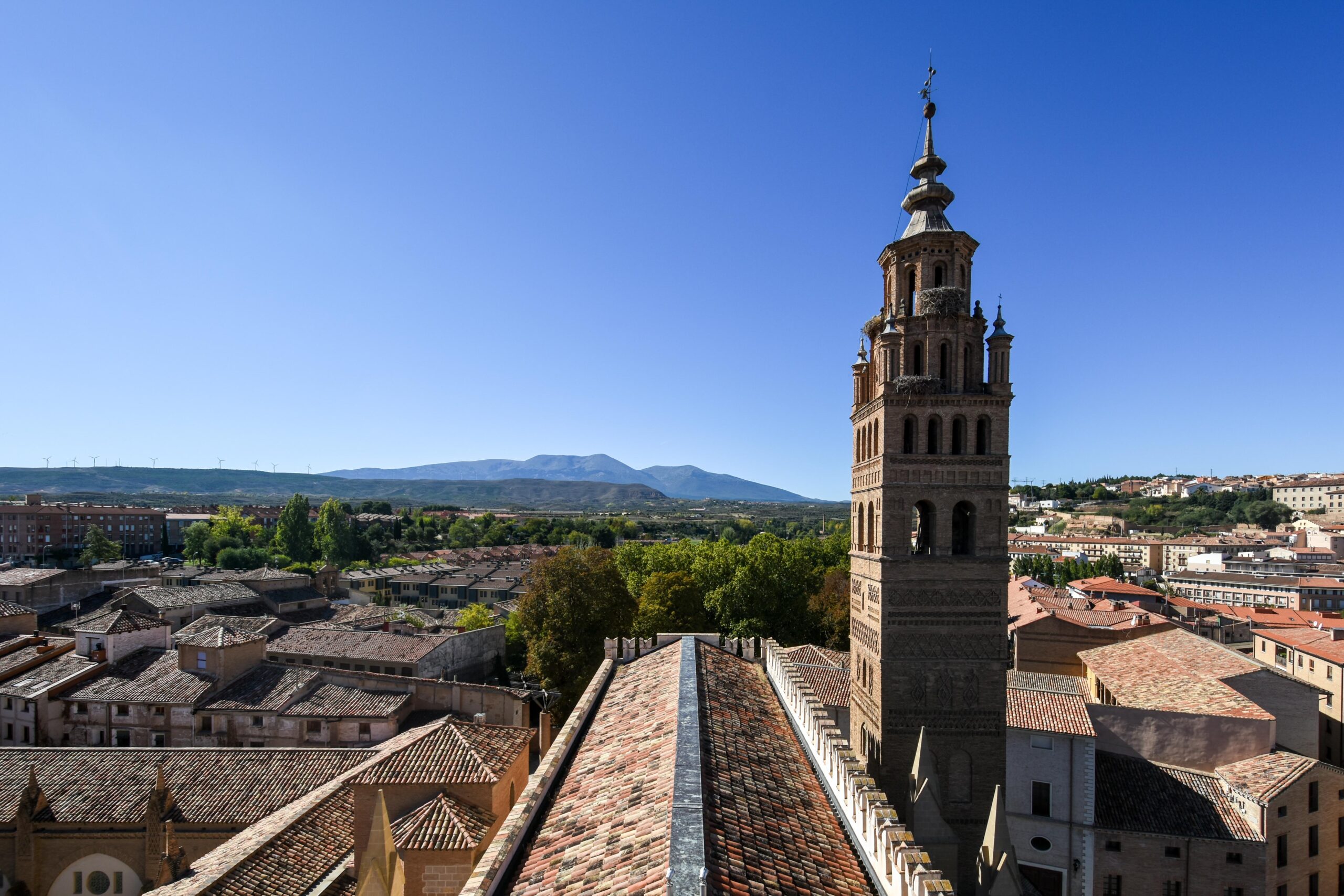 We then went down to visit the interior of the cathedral and what a surprise! I had never seen ceilings like this! Monochrome designs against a beautiful golden background! Paintings also on the walls, in chapels, my chin dragged on the floor throughout the visit! A breath of fresh air compared to so many other churches and cathedrals!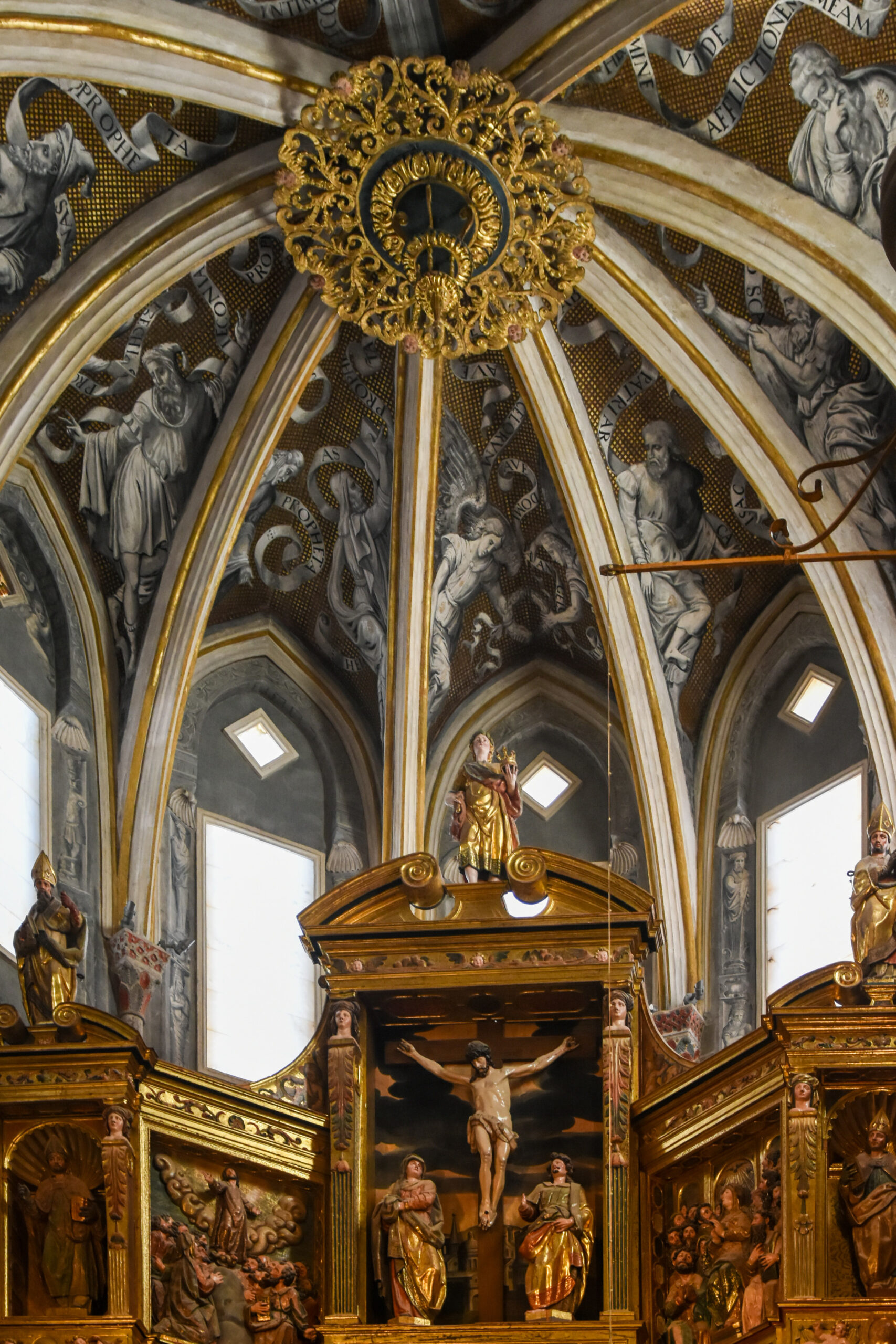 But Tarazona has a few more things to visit than the Cathedral of Santa Maria de la Huerta. We have the old bullring, now converted into housing, also in the lower part of the city. On the hill, you can find the Episcopal Palace, which you can visit, small and quick to see, the rest of the walls, the view over the lower city, the Jewish quarter, with its hanging houses, the beautiful Town Hall. The façade is divided by a long frieze representing the march of Charles V on his coronation in Bologna, as Emperor of the Holy Germanic Empire, by Pope Clement VII in 1530.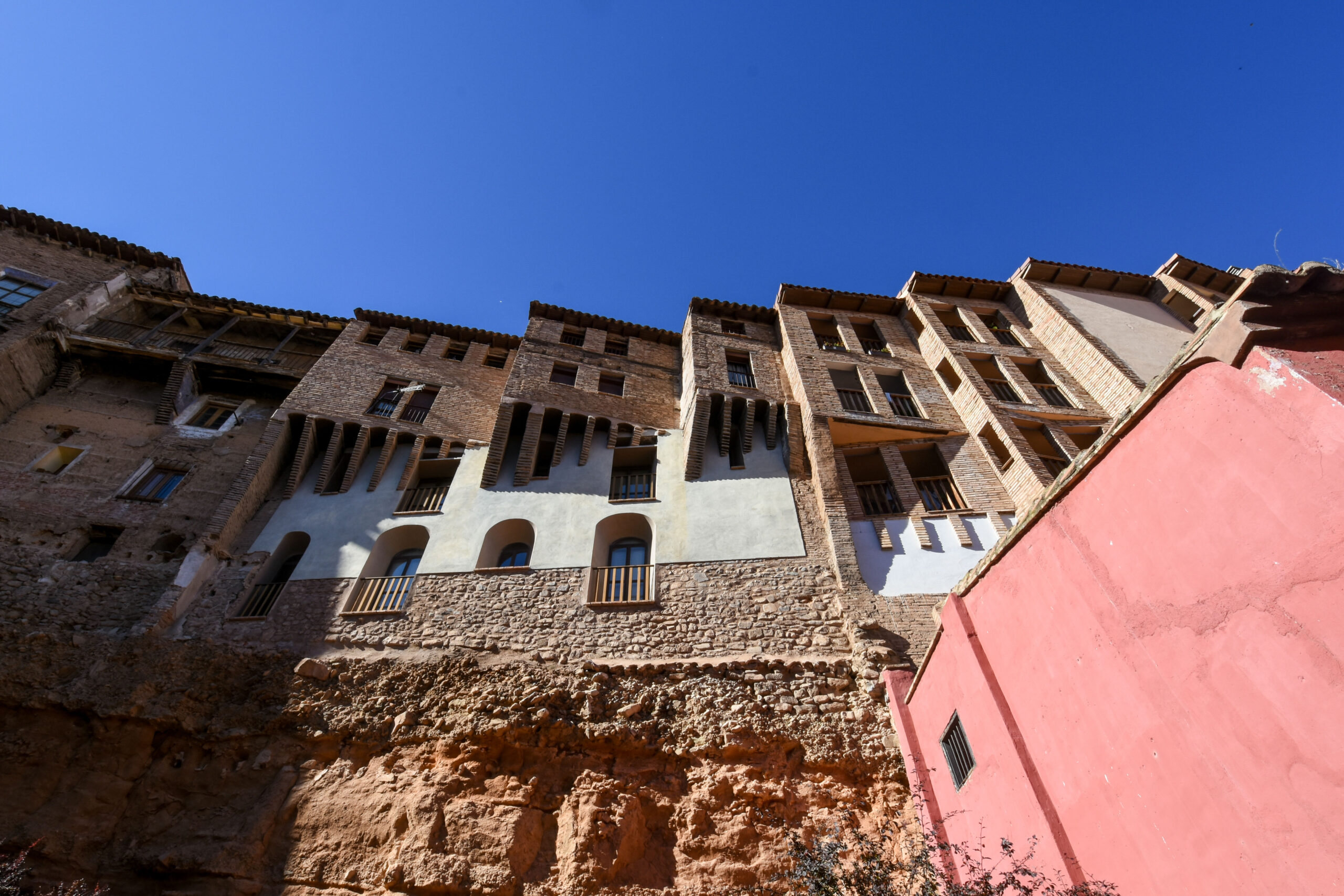 We then returned to Zaragoza and the next day we continued to Teruel, the capital of mudejar, and from there to the beautiful city of Cuenca.
Se gostaram deste post e querem ler mais sobre as minhas viagens a Espanha, podem visitar os seguintes posts: